German ex-minister Steinbrueck rules out taking ECB job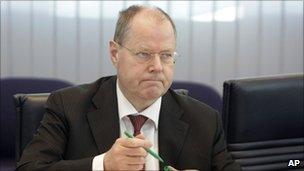 Germany's hopes for the next European Central Bank (ECB) chief to be a German have been hit after another possible candidate ruled himself out of the job.
Ex-finance minister Peer Steinbrueck said he was not interested in the role as he shared the same views as outgoing Bundesbank President Axel Weber.
Both men oppose the ECB policy of buying government bonds from countries with high debt levels.
Mr Steinbrueck said he would have had a "minority" view at the Bank.
"I am not available for this job," he told Sueddeutsche Zeitung.
Mr Weber had been seen as the front runner to succeed Jean-Claude Trichet as head of the ECB who steps down this year.
But on Friday, following a meeting with German chancellor Angela Merkel, Mr Weber announced he would leave the Bundesbank at the end of April, with the government citing "personal reasons".
And he told Der Spiegel newspaper, he had decided against seeking the ECB presidency because his opposition to the bank's bond-buying programme would have posed a credibility problem.
"These positions might not have always been helpful for my acceptance in some governments," he told Der Spiegel.
The ECB has been buying risky government bonds if international investors have either shied away from buying government debt, or demanded too high a rate for it.
The bank bought Portuguese government bonds last week after yields rose to record highs in early trading, sparking renewed fears about Portugal's ability to raise money on the international markets.
Yields fell quickly after the ECB's intervention.
Alternative candidates mentioned for the ECB presidency include Italian central bank governor, Mario Draghi.
Related Internet Links
The BBC is not responsible for the content of external sites.