Credit Suisse raises $6.2bn from Middle East investors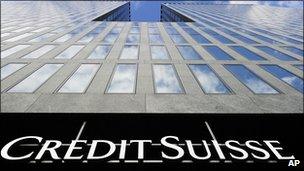 Swiss bank Credit Suisse has said it is to raise 6bn Swiss francs ($6.2bn; £3.8bn) from Middle Eastern investors.
Credit Suisse says it will issue contingent convertible bonds, also known as CoCos, to Qatar Holding and the Olayan Group.
The bank is aiming to meet stricter capital requirement rules proposed by regulators.
Swiss authorities see CoCos as way to avoid future government bail-outs of financial institutions.
The bonds convert into shares under certain conditions, such as if a bank's capital ratio falls below a certain point.
This would mean investors would share in the pain if a bank gets into trouble in the future, as their CoCo bonds would be transformed into bank equity.
Proponents of CoCo bonds believe that in a financial crisis markets would be reassured by these bonds - and government bail-outs would therefore not be required to rescue struggling banks.
"We see this transaction as a significant development for Credit Suisse Group and our industry as we believe that it will put to rest concerns about the attractiveness of these instruments to investors," Credit Suisse chief executive Brady Dougan said.
However, some banks have expressed doubts over whether investors will be interested in such a financial instrument.
Related Internet Links
The BBC is not responsible for the content of external sites.