Airline profits to fall as fuel costs rise, says Iata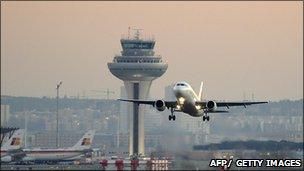 Airlines are likely to earn less this year than in 2010, as higher fuel costs outweigh a predicted rise in passenger numbers, an industry body has said.
The International Air Transport Association (Iata) has predicted earnings of $9.1bn (£5.7bn) in 2011, down from $15.1bn in 2010.
But it predicted there would be 3.3 billion air passengers by 2014, a 32% increase from 2009.
However, Iata said that "higher oil prices could spoil our party".
Fuel is one of the largest elements of an airline's costs.
Of the additional 800 million passengers expected by 2014, 45% will come from the emerging economies of Asia, Iata said.
China will become the fastest growing market for international passengers, it said.
Iata said that Asia had already overtaken North America as the largest aviation market and it would account for 30% of air traffic by 2014.
North America is forecast to slip to 23%.
A combination of consumer debt, high unemployment and austerity measures are all expected to impede growth in North America and Europe for some time.
However, the United States would continue to be the largest domestic passenger market in the world, Iata said.
"This year we expect airlines to make a global profit of $9.1bn. The dimension of Asia's importance is demonstrated by the $4.6bn that this region's carriers will contribute to this global total.
"The profits and the money are in this region," said Giovanni Bisignani.
The organisation also suggested that some international freight business could be lost to less expensive sea shipping competitors.
Related Internet Links
The BBC is not responsible for the content of external sites.