Gold-buying firms told to improve by OFT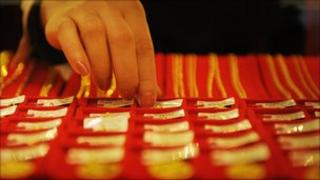 Three companies that buy gold from consumers by post have been ordered by a watchdog to improve their treatment of customers.
CashMyGold, Cash4Gold and Postal Gold agreed to make changes after an Office of Fair Trading (OFT) investigation.
The high price of gold has meant that companies that exchange people's gold for cash have grown in popularity.
But the OFT found that a handful were locking customers into accepting the offer made for their gold items.
Sometimes customers' jewellery was melted down on the assumption that they had accepted a quote.
Concerns were also raised about two other companies, which have ceased trading following the year-long investigation.
Growing sector
CashMyGold, based in Manchester, Cash4Gold, based in west London, and Postal Gold, based in Douglas in the Isle of Man, all accepted they must change their business practices.
The two that ceased trading were CashYourGoldNow, based in Newbury in Berkshire, and Money4Gold, based in St Albans in Hertfordshire.
A Cash4Gold spokesman said: "We have, and will continue to be, clear with our customers as to what they should expect, and appreciate the OFT's efforts to ensure our competitors adopt some of the same practices that have been part of our service offering from day one.
"Unlike some other gold buyers who shut up shop, we were pleased to work closely with the OFT to fully resolve all concerns."
The OFT had raised concerns with all five about the way offers were made for people's gold, such as jewellery.
The watchdog found that some businesses were sending customers a payment for their gold, which if not rejected and returned within a very short period of time by customers, was taken as consent for the payment. That meant the gold was then melted down.
Gold-buying companies have become much more prominent in recent times, with many advertising on television or appearing on temporary stands in shopping centres.
Consumers sent in their gold by post to be assessed, then received payment back in the post. Unlike the High Street, where people could immediately walk away from a deal with the gold in their possession, the postal service meant the companies had the gold and customers had to reject the payment quickly to get the items back.
Previous research for the consumer organisation Which? showed that some gold companies that advertised on television offered an average of just 6% of the gold's retail value, compared with an average of 25% offered by pawnbrokers and high street jewellers.
The OFT does not have the power to order companies to change their prices, or offers of cash, but it can ensure that businesses provide "clear and transparent" information.
A spokesman for Postal Gold said: "We are pleased that this process will increase the transparency of the industry and that best practices are adhered to by all players which are staying in business.
"Our customers greatly value benefits like speed, convenience and privacy of the transaction, which might not be found in the High Street. Comparing scrap prices offered by postal gold companies with replacement, retail or resale values obtained from the High Street is like comparing apples with oranges."
Reforms
The three firms agreed to make changes to the way they worked, including:
Providing people with the option of a quotation for their gold - which the customer would agree to, or withdraw from the deal - or just a payment
Clear information on the prices offered, including the weight and carat of the gold
Details on whether gemstones can be accepted, and explaining the risks to the customer of sending them
Making sure when referring to a "high price" on offer, that they are referring to the scrap price of the gold
Heather Clayton, of the OFT, said that the watchdog would intervene early if new industries grew without proper consumer protection.
She added that distance selling could be good for consumers, but only if the businesses operated fairly.
In January 2010, CashMyGold was criticised by the Advertising Standards Authority for a misleading television advert.
In addition to the postal gold businesses, consumers can sell their gold to some High Street jewellers, to pawnbrokers, to other businesses or money shops which provide a range of short term loans or pay day loans to consumers, and in specialist jewellery quarters.
Supermarket Tesco has also just entered the market, but the OFT said it had "not identified any reasons to be concerned with its business practices".
You have been sending in your reaction to this story. Here is a selection of your comments.
I decided to sell my gold chain. A local dealer offered me £120. I sent it off to one of these companies because the advert stated that they would offer the best price. I received a phone call from them, offering me £75. I told them to return my chain pronto and they did. I checked the gold price on the internet and found a website which quoted the price paid per gram. I sent the chain to them and later received a £250 offer, I accepted and the money was paid into my bank. I was very pleased with the outcome. Frederick Oulsnam, Buxton, Derbyshire
There are reputable postal gold companies. I decided to try one after finding a number of recommendations on numerous different sites and they gave me a better price than a high street jeweller offered. John Frone, from Hemel Hempstead, Hertfordshire
I used a gold company that you post your goods to who professed to pay double their competitors. They called me with an "exciting" offer of £140. The next day they offered an "absolute maximum" of £300. I rejected the offer because I had used an online calculator of one of their competitors and got an estimate of £400. I had also been told by a jeweller one of my rings was worth from £100 to £150 on its own (if sold privately). Lorraine Patterson, Camberley, Surrey
I went to a pawn broker which accepted my gold. I was very surprised that the store assistant didn't even know what the market gold price was on the day and that they even tried to argue that I didn't know what I was talking about when they drastically undercut the market price of gold. I think all traders of gold should try to sell near to the gold price, because if they melt it down into bars, they can keep it in the bank and sell it when the price is even higher, so the loser is always the customer. John, Leeds
I sold some odd pieces of jewellery last year. The thing that surprised me most was the variation in price. I eventually received £80 for my gold but was quoted in one high street jeweller as low as £35. I think shopping around pay dividends, even when using postal gold companies. As I only had a few items I also found that some wouldn't take it as it was of insufficient weight. David Cosgrove, Middlesbrough
We sold a gold cigarette case to an online gold company but we went into their high street shop. They weighed the gold in front of us and offered approximately what their website quoted we walked away with the cash quite happy. I estimate the price they gave me was about 14% below the gold price which I think is not unreasonable. Micah Leitch, Chippenham, Wiltshire