Rolls-Royce signs $2.2bn Emirates service contract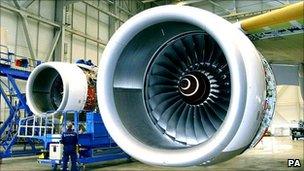 Rolls-Royce has announced a long-term service contract with Emirates worth $2.2bn (£1.4bn).
The deal covers Rolls' Trent engines on 70 Airbus aircraft, and follows a similar $1.2bn contract signed with Emirates in November.
All of the airline's Rolls-Royce powered fleet will now be covered by the Totalcare service package.
"We are delighted to sign this contract with Emirates," said Mark King of Rolls-Royce Civil Aerospace.
Rolls said last week that the mid-air failure of one of its Trent 900 engines on a Qantas superjumbo in November last year had led to costs of £56m.
Its estimate of the cost came as it announced a 76% fall in pre-tax profits for 2010 to £702m, although underlying pre-tax profits, which strip out one-off costs and which the firm said was a better indication of its performance, rose slightly to £955m.
Related Internet Links
The BBC is not responsible for the content of external sites.