Banks hoping for return to business as usual
By Russell Hotten
Business reporter, BBC News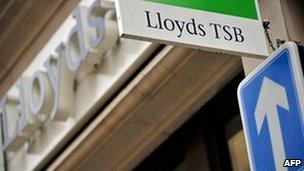 After their near-death experience, Britain's banks are staging a robust and speedy revival.
They came out of intensive care in 2009, and showed signs of recovering financial health in 2010.
As for 2011? It may well be the start of a return to business as usual.
Indeed, February may be the watershed; the point at which analysts can start talking about the banks seeing some sort of normality.
Barclays on Tuesday kicked off the banks' financial reporting season.
The figures will fuel the debate about excessive profits and bonuses in an industry underpinned by taxpayers' money.
But in purely financial terms, Barclays' pre-tax profits of £6.07bn were much better than many analysts had forecast, and will be welcomed as "a source of further reassurance and comfort", said Ian Gordon, at BNP Paribas.
After Barclays comes RBS and Lloyds Banking Group, which report on 24 and 25 February, followed by HSBC on 28 February. Standard Chartered's turn is on 2 March.
Analysts at Nomura, the investment bank, had estimate that, excluding RBS, the four other banks should make combined pre-tax of profits of about £24bn, up from £21.5bn in 2009.
But after Barclays' surprise one-third jump in pre-tax profits, it is possible that analysts will nowbe revising up their forecasts for the other banks.
The consensus among analysts was that HSBC, Europe's largest bank, should see profits more than double the £5.16bn made in 2009.
And Standard Chartered was forecast to have made about £4.5bn for 2010, up from £3.8bn the year before.
Profits at Lloyds, 42%-owned by the UK taxpayer, were estimated at just over £1bn, slightly ahead of 2009.
RBS, in which the taxpayer has an 84% stake, was forecast to lose about £600m. But that is still a considerable turnaround from the £1.93bn loss made in the 2009 financial year.
A cut in bad debts, improved margins, and a more positive global economic environment are behind the better figures.
But a lot also depends on the banks' area of focus.
Healthier profits from HSBC and Standard Chartered are based on greater exposure to the buoyant Asian economies, points out Richard Hunter, head of equities at Hargreaves Lansdown Stockbrokers.
"Those banks with an exposure to emerging markets, and Asia specifically, could have benefited from the continued exhilarating growth in those regions," he said.
Mr Hunter added that the next few weeks should reveal the banks had done a "huge amount" to improve their capital ratios - the percentage of cash held in reserve, relative to the amount of money loaned.
"But what could really mark a turning point is if the banks continue to reduce their bad debts - both corporate and individual," he said.
RBS and Lloyds - more focused on Europe and carrying heavier baggage from the financial meltdown - still have serious legacy issues to unwind.
Yet there is already talk that these two companies could soon be prepared for a return to private ownership and the government selling its stakes to recoup billions of pounds.
Following this more favourable financial climate has come a more favourable political one.
George Osborne, Chancellor of the Exchequer, set a new tone last week when he said that, regarding the bank sector, "Britain needs to move from retribution to recovery".
The comment was widely see as part of a peace pact between the banks and the government to end "banker bashing".
It followed a deal between the coalition government and the banks to provide more funds to small businesses, curb bonuses, and agree new disclosure rules.
The CBI and other business groups, along with a number of high profile executives, have also become more robust in their defence of the banks.
"The mood music is sounding sweeter if you're a banker", one banking analyst told the BBC.
Vince Cable and some fellow Liberal Democrats still have "issues" with the banks, including the separation of High Street and "casino" operations.
The Independent Commission on Banking (ICB), set up last year to look into a possible shake up of the industry, is due to publish an interim report in April.
But there has been much media speculation that the ICB is minded to conclude against separating banks' retail and investment operations.
The CBI has thrown its weight against a break up. "We need a strong banking system to help support the economy and growth," said John Cridland, CBI director-general.
And banking industry insiders also believe that a full break-up is unlikely. Their argument is that during the financial crisis banks with broad-based activities were stronger than "narrow" companies, like mortgage specialist Northern Rock, which was nationalised.
"Seeking to impose yet another round of severe restrictions in the form of splitting the activities of retail and investment banking is tantamount to cutting the legs of our banks off at the knees," said Howard Wheeldon, senior strategist at BGC Partners.
"Those that are more retail-orientated, such as Lloyds, would feel only minimal pain. But for the majority the idea of splitting retail from investment banking is abhorrent, mainly because the health of one is often dependent on the other."
But one area where there may be no return to normality for some time is the rehabilitation of banks' reputation.
The bank reporting season also signals the bank bonus season, and public anger over the issue shows little sign of abating.
Protest group UK Uncut has said it will target some Barclays high street branches on Tuesday, followed by action against RBS next week.
In a few weeks the banks will start holding their annual general meetings, another potential focal point for demonstrations against bonuses.
And there are also cracks in the coalition.
Last week Lord Oakeshott, the Liberal Democrat's Treasury spokesman, resigned in protest at the deal Mr Osborne struck with the banks.
"A multi-million-pound bonus is still a multi-million-pound bonus, even if you've got to wait two years to buy the yacht," Lord Oakeshott said.
Barclays' new chief executive Bob Diamond will most likely be the lightning rod for further criticism of bank bosses.
The Financial Times reported that Mr Diamond, who waived his bonus in 2009, is in line for between £8m and £9.5m. The other bank chiefs will reportedly get much less, between £1m and £2.5m.
Further down the executive chain at Barclays, Tuesday's results reveal a big jump in the pay, pensions and bonuses at the firm's investment banking division Barcap.
The banks are enjoying a better financial climate, more positive political approval, and can see the threat of break-up receding. Only public opprobrium over bonuses remains unchanged.
But at this stage of the financial cycle, banks may well feel that three out of four isn't bad.
Related Internet Links
The BBC is not responsible for the content of external sites.