Russia raises $3.3bn through VTB bank stake sale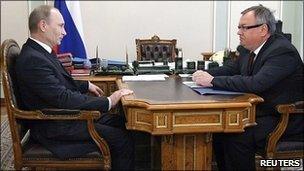 Russia has raised 96bn roubles ($3.3bn, £2.1bn) from the sale of a 10% stake in the country's second biggest bank, VTB.
The sale marks the start of the government's huge privatisation drive aimed at raising 1 trillion roubles over three years.
Prime Minister Vladimir Putin said that the sale was "proof of the trust in the Russian financial system".
Separately, the head of Russia's biggest bank, Sberbank, said that 7% in the bank could be sold later this year.
"We are discussing it actively with the central bank," said German Gref, the bank's chief executive.
"We will try to place [the 7% stake] in the second half of the year."
The Russian government wants to use money from the sale of minority stakes in state-owned companies to help finance its budget deficit, as well as attract foreign investors.
"This [the VTB stake sale] is one more step forwards on the way to integration with big global business which will help the creation of a global finance centre in Moscow," the government said.
VTB shares have fallen by 10% since the end of January when the government said it would sell the stake in the bank via the open market.
The head of VTB, Andrei Kostin, said that the share offer was twice oversubscribed.
"Many major US, European, Middle Eastern and Asian companies for the first time invested significant money in the Russian economy," the bank said.
Earlier this month, three smaller Russian companies decided to cancel their initial public offerings, citing unfavourable market conditions.
But Marina Shestakova at Wermuth Asset Management said that in the case of VTB, "investors are interested in such names despite the fairly negative market conditions".
"Plus the valuation was fair."
Related Internet Links
The BBC is not responsible for the content of external sites.