Egypt stock market remains closed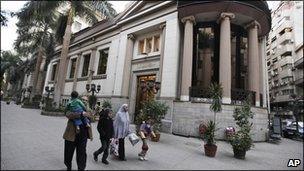 The re-opening of the Egyptian stock market has been delayed once again, until at least Sunday, 20 February.
On Sunday 13 February it had been announced that the bourse, closed since 28 January, would reopen on Wednesday.
But a statement on Monday from the Egyptian Exchange said the stock market in the turmoil-hit country will not reopen as scheduled.
It said the market would remain closed "until work is back to normal in the banking sector".
An official had initially said the stock market would reopen on Sunday, but then said it would take place on an unspecified date.
There will be 48 hours notice of when the exchange is to open again.
The doors were closed more than two weeks ago after the benchmark Egyptian index lost about 17% of its value in two days of trading.
That came after the start of the protests that led to the resignation of President Hosni Mubarak.
Meanwhile, the country is currently hit by strikes in the banking sector, as public sector bank workers seek better pay and benefits.
The Central Bank of Egypt (CBE) has ordered banks across the country to remain closed on Monday in the wake of the strikes at National Bank, the largest state bank.
As Tuesday is a national holiday in Egypt the banks are now scheduled to re-open on Wednesday.
Related Internet Links
The BBC is not responsible for the content of external sites.