House prices will fall in 2011, says CEBR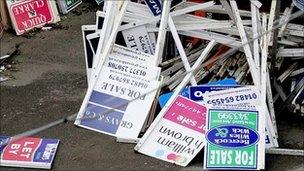 Weaker household earning power will lead to a 1.7% fall in UK house prices in 2011, a research group predicts.
Higher inflation and weaker employment prospects will lead to a fragile economic recovery, the Centre for Economics and Business Research (CEBR) said.
This would push down house prices in 2011, followed by a slow-paced recovery in subsequent years, it said.
Other commentators are divided over the direction of house prices this year.
The CEBR calculated that UK house prices rose by 6.4% in 2010 compared with the previous year.
However, regions most prone to public sector job cuts would lead a fall in the value of properties in 2011, it predicted.
Although homes would become more affordable for first-time buyers, the CEBR said demand for mortgage lending would remain low as householders took the safety-first approach by repaying debts and rebuilding savings.
More relaxed lending criteria from banks, and greater consumer confidence would see some recovery, starting with a 2.3% increase in prices in 2012. This would accelerate to a 5.5% rise in 2015, it predicted.
"We expect house prices to grow tentatively over the coming years, given that household incomes are being squeezed and banks are still wary of lending," said Douglas McWilliams, chief executive of the CEBR.
"There is currently significant uncertainty in the market caused by the government's spending cuts and a choppy recovery, which has greatly impacted transaction levels."
Long-term house price predictions are generally very difficult, owing to the number of variables involved in the calculation.
No commentators are predicting runaway house prices in 2011, but opinion is divided over whether they will rise or fall compared with 2010 prices.
Most observers are certain that mortgage borrowing, and completed sales, will stay at the very low levels seen currently.
Related Internet Links
The BBC is not responsible for the content of external sites.