Barclays reports annual profits of £6.07bn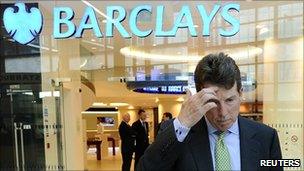 Banking group Barclays has reported pre-tax profits of £6.07bn for the full-year 2010, slightly higher than analysts were expecting.
This was a rise of almost a third on the £4.59bn profit the bank made in 2009, Barclays said.
Money put aside for bad loans fell 30% against a year earlier, to £5.67bn.
Group performance-related pay was down 7% to £3.4bn compared with 2009, and down 12% at the bank's investment banking arm, Barclays Capital (Barcap).
The 2010 pre-tax profit figure refers to the bank's continuing operations. This time last year, Barclays reported profits of £11.6bn for 2009, a figure which was inflated by the sale of its BGI fund management arm to US firm BlackRock.
Underlying profits for 2010 rose by 11% to £5.46bn.
"Barclays has opened the bank reporting season in some style, exceeding analyst estimates despite a challenging 2010," said Richard Hunter at Hargreaves Lansdown.
"In all, the results are representative of something of a return to normality."
Shares in Barclays rose by more than 5% following the results announcement.
Total staff costs rose by 20% to £11.9bn, of which £3.5bn was paid in bonuses.
Bonuses at Barcap totalled £2.6bn, while profits at the division almost doubled to £4.78bn on revenues of £13.6bn.
The bank said that, in line with new regulations, bonus payments would be deferred over three years and would not be paid unless the bank had sufficient capital in reserve.
"We are committed to demonstrating that we are both responsible in our compensation decisions and practices and that we take our regulatory obligations and UK government commitments seriously," said Bob Diamond, Barclay's chief executive.
He added that bonus payments had been directly influenced by Project Merlin, a deal agreed with the government last week.
Under the terms of the deal, the UK's top banks agreed to curb bonuses, lend more to small and medium-sized businesses - about £190bn in total this year - and reveal some salary details of top earners.
Barclays will not reveal how much it pays its top executives, including Mr Diamond, until the publication of its annual report, which it says should be released within the first two weeks of next month.
However, unions were unimpressed by Barclay's bonus payouts.
"With ordinary workers facing the toughest squeeze in living standards for 90 years, it takes a special kind of arrogance to consider a pay rise 10 times the level of average settlements as 'restrained'," said TUC General Secretary Brendan Barber.
"With Project Merlin now a proven sham, new measures are needed to tackle boardroom excess."
In fact, total pay, including salaries, pensions and bonuses for the 24,800 bankers working at Barcap was about £236,000 on average, up from £196,000 in 2009, said BBC business editor Robert Peston.
"Salaries went up very significantly - by 40% to 50% in some cases - to compensate for the pressure to bring down bonuses," he added.
Total group revenues came in at £31.44bn.
New lending in the UK was almost unchanged at £36bn compared with £35bn in 2009, although this figure does not include the £7.5bn in loans arising from the acquisition of Standard Life Bank.
In the UK, the bank paid £2.8bn in tax, while globally it paid £6.1bn.
"I am proud of what we achieved in 2010, especially our profit growth and enhanced capital and liquidity positions," said Mr Diamond.
Related Internet Links
The BBC is not responsible for the content of external sites.