Ivory Coast election row prompts global banks to shut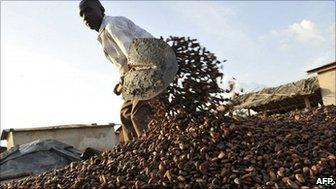 Ivory Coast's disputed presidential election has prompted leading banks Paribas and Citibank to suspend operations.
The move by the two large international banks comes as the power struggle following the election escalates.
Paribas's Ivorian unit, the second biggest banking operation in the country, closed due to security concerns.
Citibank gave no official reason for its move.
It said it would continue to monitor the situation.
The West African nation has been in turmoil since a disputed presidential election in late November between incumbent Laurent Gbagbo and rival Alassane Ouattara.
A United Nations-backed election commission named Mr Ouattara the winner, but the result was reversed by a legal body and Mr Gbagbo remains in power despite the threat of international sanctions and military force.
BNP Paribas and number one Societe Generale between them have around two-thirds of the Ivory Coast market.
Citibank is the largest corporate financer of Ivory Coast's oil and gas operations and the third biggest cocoa exporter financer, although it has no retail branches.
Standard Bank analyst Samir Gadio told the Reuters news agency that there was a "reputational risk" for banks that continue to operate in Ivory Coast as they would be seen as allowing Mr Gbagbo to stay in power.
Western nations have put in place travel bans and sanctions on a range of individuals and organisations backing Mr Gbagbo.
Cocoa exporters are also refusing to co-operate with the regime.
Ivory Coast is the biggest cocoa producer in the world and the price of cocoa touched their highest levels for a year on Monday.
Exporters have stopped registering new beans for export as a result of the sanctions, and a ban called for by Mr Ouattara.
Budget Minister Kone Katinan said on state TV: "The government condemns the illegal character of this decision... By proceeding with their closure, [the banks] are... seriously contravening their obligations under banking law. [We] will not tolerate these acts of defiance."
Mr Gadio said: "Gbagbo is not going to leave just because the banking system has shut down... he will leave the day his life is at stake. But this is going to speed up the endgame. I don't see how the salaries are going to get paid."
Mr Gbagbo had previously ordered the seizure of all local branches of the Central Bank of West African States (BCEAO).
Ivory Coast is part of the eight-country West African CFA monetary zone, with a single central bank based in Dakar, Senegal, but with national headquarters in each country.
Without access to government funds, it is unclear whether Mr Gbagbo will be able to continuing paying the country's military and security forces.
Related Internet Links
The BBC is not responsible for the content of external sites.