Chinese inflation hits 4.9% pushed by high food prices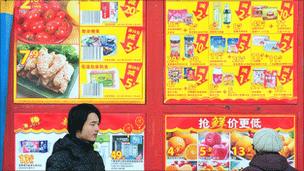 Inflation in China has accelerated in January despite three interest rate rises in the past four months.
Consumer prices rose by 4.9% in January from a year earlier, the National Bureau of Statistics said. In December, the annual figure was 4.6%.
China, and other Asian nations, are battling high food costs. The January figures showed food prices up 10.3%.
Inflation is a concern in China where poor families spend up to half their incomes on food.
January's figure was less than many economists had predicted, but close to November's 28-month high of 5.1%.
Adding to inflationary pressure are factors such as a drought in China's key wheat-growing regions, as well as a rise in global commodity prices.
"The government is battling with all sorts of problems coming from every front," said Jinny Yan, an economist from Standard Chartered
"The peak of inflation is yet to be seen."
Analysts said that an increase in producer prices also highlighted the problems China was facing.
Producer-price inflation accelerated in January to 6.6% from a year earlier, and compared with 5.9% in December, the statistical office figures showed.
In an attempt to rein in price growth, the central bank last week raised its main interest rate to 6.06% from 5.81%.
Some analysts say borrowing costs are set to rise further in coming months.
"Inflation pressures are still very evident," said Jonathan Cavenagh from Westpac in Singapore.
"The PPI firmed to 6.6% and non-food inflationary pressures continued to rise. So I would still expect to see tighter policy in coming months."
The National Bureau of Statistics also announced changes in how it calculates consumer price inflation.
Housing has now been given a much larger share of the new consumer price index (CPI) basket, and food prices have been given less weight, it said.