Japan's economy emerging from lull, says Bank of Japan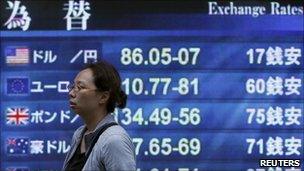 Japan's economic outlook is more positive and it is gradually emerging from a slowdown, the Bank of Japan (BOJ) has said in a statement.
Exports and production are showing signs of recovery, helped by growth in the global economy, the BOJ said.
Japan's exports have been hurt by a strong yen, while consumption at home has also slowed.
On Monday, Japan was overtaken by China as the world's second-largest economy.
The BOJ also said on Tuesday that it was keeping its interest rates in the range of zero to 0.1 percent.
Analysts said the statement is a signal that the central bank will continue with current policies in dealing with the economy.
"The Japanese economy is still in deflation." said Yoshikiyo Shimamine of Dai-Ichi Life Research Institute in Tokyo.
"The BOJ has said it will keep to its accommodative monetary policy until Japan is out of this deflationary state once and for all.
"It will be a long time before interest rates are raised."