Domino's Pizza shares slip as sales growth slows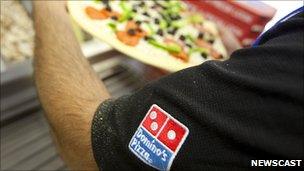 Domino's Pizza shares have fallen almost 7% after the company reported a slowdown in sales growth this year.
Like-for-like sales, which strip out the impact of sales at new stores, rose by 4.7% during the first seven weeks of 2011, compared with double digit growth in the first six weeks of 2010.
The UK's biggest pizza delivery chain also reported a fall in profits for 2010 due to a one-off credit in 2009.
Pre-tax profit came in at £35.2m, down 14% on the £41m the firm made in 2009.
Taking out the impact of the one-off credit from the 2009 figures, profits in 2010 rose by 27% to £38m. The credit refers to a £15.1m goodwill figure from the acquisition of Domino's Leasing, an office furniture company.
Sales growth at the start of the year does not compare well with earlier years, analysts said.
"It is the weakest number we can recall over the last five-and-a-half years," said Simon French at Panmure.
"Comparatives will only get harder over the [next few months] as the football World Cup had a very positive impact on the second quarter last year."
However, Domino's said it was perfectly relaxed about the slowdown in sales growth.
"We're up against extraordinarily tough comparatives, 10 years of double digit like-for-likes, so we're quite pleased with [the 4.7% growth]. Seven weeks doesn't make a year at Domino's," said finance director Lee Ginsberg.
Like-for-like sales for 2009 rose by 11.9% compared with 2009.
Total sales rose by 19.3% to £485.3m, thanks in part to 57 new store openings during the year - a record for the group.
A 63% rise in online sales, to £128m, also helped to boost overall sales.
"I am delighted to report another exceptional set of results. The business has continued its remarkable run," said Domino's chief executive Chris Moore.
Domino's has 655 stores across the UK and the Republic of Ireland, and more than 9,000 in total in 65 countries.
Related Internet Links
The BBC is not responsible for the content of external sites.