UK inflation rate rises 'hitting savers'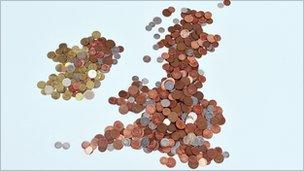 People who rely on savings to supplement their income face greater pain from the rising rate of inflation.
To overcome inflation, a basic rate taxpayer needed to find a savings account paying 5% a year, financial information service Moneyfacts said.
But the average savings rate being paid to this group was 0.83%, it found.
Those paying the 40% tax rate needed to find an account paying 6.67% - only available from 21 Individual Savings Accounts (Isas).
The UK Consumer Prices Index (CPI) annual inflation rate, which charts the cost of living, rose to 4% in January, up from 3.7% in December, the Office for National Statistics reported.
Retail Prices Index (RPI) inflation - which includes mortgage interest payments - rose to 5.1% from 4.8%.
Moneyfacts said no savings accounts were available that pay rates which overcome the RPI, while there were 23 accounts for basic rate taxpayers that beat CPI - of which 21 were Isas.
The average savings interest rate payable to a basic rate tax payer was, in effect, being eroded by 3.34% per year, the group said.
"While the tax on spending [VAT] does not directly impact on exempt essentials such as food, its indirect effect via higher fuel and distribution costs inevitably drives up all consumables," said Sylvia Waycot, of Moneyfacts.
"Those reliant on their savings income will undoubtedly find their level of savings pain harder to endure. The rise in inflation will hit those who rely on their savings to supplement their income the most, in particular pensioners."
Most of the accounts that match inflation, or more, require savers to lock up their money for four or five years. The remainder require savers to also invest money in equities.
Ros Altmann, director general at Saga said: "This latest surge in the CPI is a further kick in teeth for older people who often live on fixed incomes and who rely on their savings for additional income.
"If the Bank of England needed further evidence of the need to increase interest rates sooner rather than later, it surely now has it."
Rising inflation is better news for those who have borrowed money because it eats away at the value of those debts.
Mortgages have remained relatively cheap since the Bank rate has been at a record low of 0.5%.
However, the cost of borrowing for mortgage lenders - known as the swap rate - has risen, which has pushed up fixed-rate deal costs in recent months.
This swap rate has risen because of an expectation that UK interest rates will rise later in the year.
The price of petrol as measured by the CPI was £1.27 a litre in January 2011, which the Office for National Statistics said was a record high.
Other contributing factors included rising costs of transport, restaurants and hotels, furniture and alcohol.
The monthly figures are the first to include the effects of the rise in VAT from 17.5% to 20%, which took place on 4 January.
Andrew Hagger, from personal finance website Moneynet, said: "There seems little prospect of inflation easing in the near future with the price of oil continuing to rise.
"I am not sure how much longer can the powers that be continue to sit on the fence and do nothing, maybe this latest surge will be the final straw and trigger a base rate rise before the summer."
Related Internet Links
The BBC is not responsible for the content of external sites.