Bus passenger rights boosted by European Union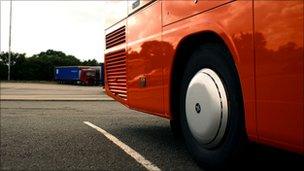 Bus and coach passengers in the European Union (EU) will gain stronger compensation rights from 2013 following a vote in the European Parliament.
The rules cover cancellation, overbooking and delays for more than two hours on trips of more than 250km.
Barring bad weather or natural disasters, passengers will be entitled to a full refund, plus 50%, if the operator cannot honour the ticket.
The rules already cover air, rail and sea travellers.
The Confederation of Passenger Transport in the UK, the trade association representing the UK's bus, coach and light rail industries, said it was "relaxed" about the new legislation.
The cancellation, overbooking and delayed departure policies of the major operators in the UK already comply with the rules, it explained.
From the spring of 2013, bus and coach passengers who decide not to go ahead with a trip following a cancellation or two-hour delay will still be entitled to a full refund.
Following a delay of 90 minutes, passengers now must be given snacks and drinks.
In the event that passengers are forced to find overnight accommodation due to a delay, operators will also be obliged to offer up to two nights in a hotel at a maximum cost of 80 euros (£67; $108).
Damaged or lost luggage will also be reimbursed up to the value of 1,200 euros, but there will be no limit for replacing mobility equipment for disabled passengers.
To help smaller operators to adjust to the new rules, certain national services, or those where an important part of the service is outside the EU, will be exempted for a maximum of four years, renewable once.
"This agreement is very important for transport and tourism," said MEP Antonio Cancian.
"It embodies a strategic balance, for it protects smaller firms and will make life easier for people with disabilities."
Related Internet Links
The BBC is not responsible for the content of external sites.