Airline delay complaints may resume, court suggests
By Ian Pollock
Personal finance reporter, BBC News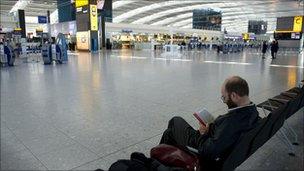 A county court judge has opened the way for airline passengers to resume compensation claims if their flights are delayed by more than three hours.
Last August the High Court allowed some UK airlines to refer the issue back to the European Court of Justice (ECJ).
The airlines argued that this meant all such claims in the UK courts were put on hold until any further ECJ decision.
Now Her Honour Judge Hallam, at Middlesbrough county court, has ruled that in fact no general stay exists.
The case at Middlesbrough involved a claim by Mr Andrew Lewis against travel operator Thomas Cook.
Since December 2008, he has been trying to obtain compensation from the company for the costs of a 28-hour delay to a week-long holiday in Las Vegas in the US.
Mr Lewis lost a first hearing in May 2010 and was asking for the right to appeal.
Judge Hallam denied him this, agreeing with Thomas Cook that his case should remain on hold and not be allowed to proceed "in the interests of justice and proportionality".
But Mr Lewis's solicitor, Mike Rattenbury, who was in court, said she went on to state that any similar claims should be judged on a case-by-case basis.
Mr Rattenbury said: "The judge said, 'I am not satisfied that the defendant's application to stay is anything more than that; I am not satisfied that a stay is tantamount to suspension [of the European regulation]'."
Thomas Cook disputed the accuracy of the reported comments, although it acknowledged that it was obliged to argue each case before a court.
"We accept that a stay for each case is not an automatic right and that this has to be formally requested of the court concerned," the company said in a statement.
"This approach has been taken on all such flight delay cases to date and all have been successfully approved by the courts."
The Air Transport Users' Council (ATC) said it would consult with the Civil Aviation Authority (CAA), but for the time being it had no plan to change its advice.
This says that under the November 2009 'Sturgeon' ruling of the ECJ, airline passengers may be able to claim compensation for delays of longer than three hours.
However, such claims in the UK have been on hold since last August's High Court decision to refer the matter back to the ECJ.
"In the meantime, airlines cannot be compelled in the UK to pay compensation for delays," says the ATC.
A spokesman for the ATC pointed out that that this position only applies to claims lodged in UK courts.
The consumers' association Which? welcomed the comments of Judge Hallam.
"It is good the court has clarified that an opportunity is still there to claim compensation for long delays," said Which? lawyer Chris Warner.
"Consumers should challenge their airline if they think they have a case but should be prepared for a fight.
"But it is important that the ECJ should deal with the High Court's referral as quickly as possible," he added.
Related Internet Links
The BBC is not responsible for the content of external sites.