NYSE Euronext and Deutsche Boerse reveal merger details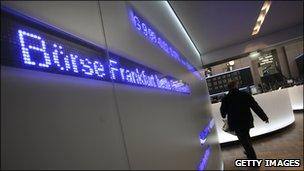 NYSE Euronext and Deutsche Boerse have formally announced their plan to merge, in a move that will create the world's largest stock exchange operator.
The newly-combined company will have headquarters in both New York and Frankfurt.
NYSE Euronext's chief executive Duncan Niederauer will take the the role of chief executive at the yet-to-be-named company.
Reto Francioni, chief executive of Deutsche Boerse, will become chairman.
At the close of New York trading, NYSE shares were down 3.4% at $38.12, while Deutsche Boerse shares were 2.4% lower.
Deutsche Boerse will own 60% of the combined group, which will have a combined net revenue of $5.4bn (£3.4bn).
The two exchanges have faced increasing competition from newer exchanges who cater to dominant high-speed electronic traders.
"This transaction brings together two of the most respected and successful exchange operators," said Mr Francioni.
"Clients will have unparalleled access to markets, products, information, world-class technology, clearing services and settlement."
The deal is subject to acceptance by a majority of NYSE Euronext shareholders, 75% of Deutsche Boerse shareholders and the approval of regulators in the US and Europe.
Related Internet Links
The BBC is not responsible for the content of external sites.