Food prices at dangerous levels, says World Bank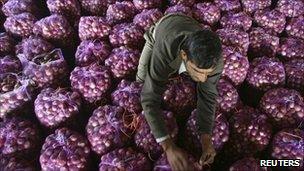 The World Bank says food prices are at "dangerous levels" and have pushed 44 million more people into poverty since last June.
According to the latest edition of its Food Price Watch, prices rose by 15% in the four months between October 2010 and January this year.
Food price inflation is felt disproportionately by the poor, who spend over half their income on food.
The Bank called on this week's G20 meeting to address the problem.
The World Bank's president, Robert Zoellick, said in a statement: "Global food prices are rising to dangerous levels and threaten tens of millions of poor people around the world."
He also said that rising food prices were an aggravating factor of the unrest in the Middle East, although not its primary cause.
Rapid food price inflation in 2008 sparked riots in a number of countries. At that time, the World Bank estimated 125 million people were in extreme poverty.
The World Bank says prices are not quite back at those levels - just 3% below - although they are 27% higher than a year ago.
A separate report earlier this month from the UN's Food and Agricultural Organization (FAO) said that world food prices had hit a record high in January.
Finance ministers and central bankers from the G20 group of developed and developing nations are meeting later this week in Paris.
Related Internet Links
The BBC is not responsible for the content of external sites.