Thomas Cook asks OFT for Competition Commission probe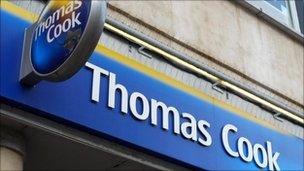 Thomas Cook and the Co-operative Group want the Office of Fair Trading (OFT) to stop its probe into their planned High Street travel agent merger and pass it to the Competition Commission.
The OFT still has three weeks to identify any concerns it has about the tie up between the two businesses.
But the two companies want the OFT to 'fast-track' the process.
Thomas Cook's request shows it believes the OFT has found issues that it thinks require further study.
The usual process of investigation into the impact of any takeover or merger is for the OFT to complete a study and, if it decides there are competition concerns, the next stage is a referral to the Competition Commission.
The company said that once the Commission takes up the matter, it is likely to take another six months to reach a decision.
Thomas Cook's chief executive, Manny Fontenla-Novoa said: "We continue to believe that there is compelling rationale for clearance, particularly when you consider previous decisions in our sector.
"We feel that proceeding straight to the Competition Commission should provide us with the right answer most quickly."
The European Commission had initially looked at the deal, announced in October, which would create the largest travel store network in the UK.
But it then handed the review to the OFT because it only affects UK businesses.
Under the plans, both Thomas Cook and Co-operative Travel will retain their separate branding across about 1,200 stores.
The firms hope the merger will create annual savings of more than £35m across the two firms.
And at the time the deal was announced, Thomas Cook admitted the deal could mean "hundreds" of job cuts as some stores closed.
Thomas Cook's online operation is not included in the merger with Co-operative Travel.
Related Internet Links
The BBC is not responsible for the content of external sites.