World's biggest miner BHP posts record $10.5bn profits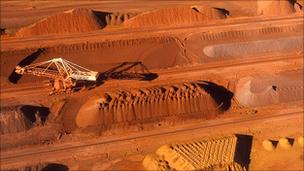 The world's biggest mining firm, BHP Billiton, has made record half-year profits thanks to strong demand and high prices.
Net profit jumped 72% to $10.52bn (£6.5bn) in the six months to the end of December, BHP said.
It also unveiled plans to spend $80bn on new projects worldwide, and buy back $10bn of shares from investors.
BHP said it saw demand growth slowing in 2011, but added that economic conditions should help earnings.
"While we expect a slowdown in the growth rate of global commodity demand in calendar year 2011, the economic environment still underpins a robust near-term outlook for our products," the company's chief executive Marius Kloppers said.
The company said it plans to spend the $80bn over the next five years as it looks to develop new projects.
Mining and commodity companies are having mixed results when it comes to identifying and accessing new deposits.
Analysts said that the supply constraints are one of the reasons commodity prices have climbed so high.
BHP said that it would use the money to develop projects in Australia, Chile and Canada.
"The biggest surprise is the commitment to spend $80bn over the next five years," said Mes Bruce, a portfolio manager at Perpetual Investments.
"We think that this demonstrates the challenges that the industry is having satisfying rising demand, while replacing declining production from mature operations."
BHP was recently forced to call off a merger with Canada's giant Potash Corp, and it was the company's latest significant takeover attempt to run into trouble in the past three years.
With virtually no debt, and with no obvious target for a tie-up the company has a large cash pile and decided to accelerate a share buy-back scheme.
Such a move reduces the number of shares in issue, meaning there are fewer pieces of the company, which then attract a bigger share of any profits.
A similar move has been announced by BHP's rival, Rio Tinto.
BHP shares fell by 1% on the earnings news, with analysts saying it was in line with market expectations.
Related Internet Links
The BBC is not responsible for the content of external sites.