Japan and India sign free-trade deal after sales slide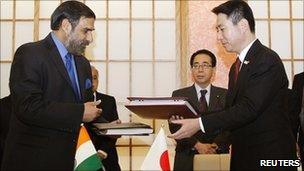 Japan and India have signed a free-trade agreement that will see tariffs on 94% of goods scrapped within a decade.
It will focus on the textile, drug, auto and services sectors, and comes as trade between the two is sliding.
In a separate report, the World Trade Organization said more open markets will help boost Japan's growth.
The agreement does not cover Japanese farm products such as rice, wheat and dairy items, which are considered too sensitive for tariff elimination.
On Monday, Japan was overtaken by China as the world's second-largest economy and it is keen to boost trade to help offset sluggish domestic demand.
India on the other hand is one of the world's fastest-growing economies and is looking for new markets for its companies' products.
Japan's Foreign Minister Seiji Maehara and India's Commerce Minister Anand Sharma inked the trade deal in Tokyo.
According to the World Trade Organization while Japan's governments have taken steps to boost economic growth, they need to do more where trade is concerned.
"While looser macroeconomic policies have helped Japan's economy to recover from the global financial crisis, they do not address its long-standing structural problems," the WTO said in trade policy review of Japan.
"These problems can be addressed more effectively by far-reaching structural reforms, of which trade liberalization (and the resulting stimulus to competition) is an integral part," it added.
In another attempt to boost ties between the two Japan is mulling plans to finance some of India's infrastructure projects.
India's commerce minister has proposed setting up a $9bn fund that would help further develop the Delhi-Mumbai industrial corridor.
The project started in 2007 and is based on a similar project between Tokyo and Osaka. It is being funded in part by the Japanese government and Japanese companies.
When finished it will include a high-speed rail freight network, three new sea ports and six airports.
It is expected to attract investment of more than $100bn.
Related Internet Links
The BBC is not responsible for the content of external sites.