Sanofi-Aventis to buy Genzyme in search for new sales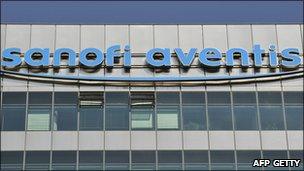 French pharmaceutical group Sanofi-Aventis has agreed to buy US biotech company Genzyme for $20.1bn (14.8bn euros; £12.4bn).
The acquisition of Genzyme will give Sanofi access to the market in drugs for the treatment of rare diseases.
Sanofi has recently seen its sales decline as patents on some of its best-selling drugs expire.
Massachusetts-based Genzyme produces treatments for multiple sclerosis, cholesterol and rare genetic diseases.
"This transaction will create a meaningful new growth platform for Sanofi-Aventis while expanding our footprint in biotechnology," said Christopher Viehbacher, Chief Executive of Sanofi in a statement.
Sanofi made a formal offer for Genzyme in August 2010 which Genzyme rejected, saying it did not take into account the company's pipeline of potential medicines.
Under the terms of the new deal, Genzyme shareholders will also be entitled to future payments based on sales of Genzyme's products, including multiple-sclerosis drug Lemtrada.
Related Internet Links
The BBC is not responsible for the content of external sites.