Bernard Madoff says banks knew of Ponzi scheme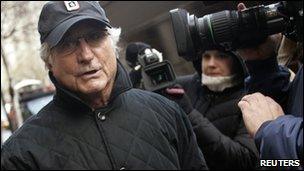 Convicted fraudster Bernard Madoff has blamed others for being "complicit" in his scheme, which fleeced investors of billions of dollars.
Madoff is serving 150 years in jail in the US for a $65bn (£40bn) fraud which deprived thousands of investors of their savings.
Such schemes pay out using new investor money rather than from any profits.
Madoff claimed banks and hedge funds who had dealings with his investment advisory firm showed a "willful blindness" toward his activities.
He also alleged they failed to examine discrepancies between his regulatory filings and other information.
"But the attitude was sort of, 'If you're doing something wrong, we don't want to know'," he said.
However, he did not assert that any specific bank or hedge fund knew about or was an accomplice in his Ponzi scheme.
His scheme had been running since the early 1990s.
It unravelled when Madoff's investors, hit by the economic downturn, tried to withdraw about $7bn, but he could not produce the money.
Madoff also told the New York Times that his family knew nothing about his crimes.
Related Internet Links
The BBC is not responsible for the content of external sites.