Ivory Coast rush to withdraw bank cash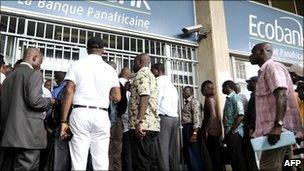 Long queues have formed at banks in Ivory Coast amid fears of a banking collapse as the Standard Chartered bank said it was suspending operations.
It is the fourth bank to close this week because of turmoil following November's disputed presidential polls.
Earlier it was reported that West Africa's BRVM stock exchange, based in Abidjan, had suspended its operations.
BRVM staff told the BBC they were working, but it was not clear if they were actually able to do transactions.
The UN-backed election commission named Alassane Ouattara as the winner of the election, but the result was reversed by a legal body and Mr Gbagbo remains in power despite the threat of international sanctions and military force.
The BBC's John James in Abidjan says the BRVM did not function on Monday. It said in a statement this was because of "technical problems".
Tuesday was a bank holiday and on Wednesday morning there remained armed police outside and inside the premises, our reporter says.
Last week, soldiers loyal to Laurent Gbagbo, who is refusing to step down as Ivory Coast's president, invaded the exchange's offices in Abidjan.
They said they were acting on rumours that BRVM planned to relocate. Firms from eight West African nations trade on the Abidjan stock market.
Our correspondent says the financial crisis has been provoked by uncertainty and sanctions.
Most cash machines in Abidjan are now empty or out of action, and for several weeks it has been almost impossible to cash cheques, he says.
In a statement to the BBC, Standard Chartered said it was suspending operations "until it is safe to reopen".
On Monday, the dispute prompted two leading banks, BICICI - the local branch of the French bank BNP Paribas - and Citibank, to suspend their local operations. Nigeria's Access Bank also closed on Monday.
BNP Paribas and number one Societe Generale between them have about two-thirds of the Ivory Coast banking market.
Citibank is the largest corporate financer of Ivory Coast's oil and gas operations and the third biggest cocoa exporter financer, although it has no retail branches.
Western nations have put in place travel bans and sanctions on a range of individuals and organisations backing Mr Gbagbo.
Cocoa exporters are also refusing to co-operate with the regime.
Ivory Coast is the biggest cocoa producer in the world and the price of cocoa has been trading at its highest levels for a year.
Exporters have stopped registering new beans for export as a result of the sanctions, as well as a ban called for by Mr Ouattara.
Mr Gbagbo had previously ordered the seizure of all local branches of the Central Bank of West African States (BCEAO).
Ivory Coast is part of the eight-country West African CFA monetary zone, with a single central bank based in Dakar, Senegal, but with national headquarters in each country.
Without access to government funds, it is unclear whether Mr Gbagbo will be able to continuing paying the country's military and security forces.
Related Internet Links
The BBC is not responsible for the content of external sites.