Youth unemployment: Fears over record figures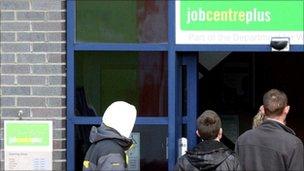 Young people are being "shunted into the sidelines" as they face a growing threat of unemployment, a business group has warned.
Andrew Cave, from the Federation of Small Businesses, said the future looked gloomy for the young unemployed.
The latest figures showed youth unemployment rose to a fresh record high, with more than one in five 16 to 24-year-olds out of work.
Prime Minister David Cameron said the figure was a matter of "great regret".
The latest official statistics showed that youth unemployment rose by 66,000 to 965,000 in the three months to the end of December, the highest level since comparable records began in 1992.
The youth unemployment rate was 20.5%, compared with a general unemployment rate of 7.9%.
Mr Cave said that the figures, which extended the record numbers recorded a month earlier, were "devastating" for young people.
"It is quite clear that there is a two-track economy opening up," he said.
"We are hearing that big business and the banks are returning to profit, but small business and particularly young people are being shunted into the sidelines to a certain extent."
The record number of just under a million includes students in full-time education who may be looking for part-time work.
The unemployment level for 16 to 24-year-olds not in full-time education was 691,000 - the highest since 1994.
There are also 793,000 people in the 16 to 24 age group who are economically inactive, and are not in full time education. They do not appear in the unemployment figures as, by definition, they are they are not looking for work.
The matter was the subject of verbal clashes between Mr Cameron and Labour leader Ed Miliband at Prime Minister's Questions.
Mr Miliband accused the government and Mr Cameron of "betraying a whole generation of young people".
"Why does he not change course?" he asked.
Mr Cameron said that the unemployment figures, and particularly youth unemployment, were a matter of great regret.
However, he said this had been a problem for more than a decade, "in good years and in bad".
The government was tackling the issue by improving the welfare system, the education system, and back to work programmes, he said.
Jonathan Portes, director of the National Institute of Economic and Social Research, said there had been a long history of youth unemployment in the UK, but it had got considerably worse in the last couple of years.
He said the number of people in work aged over 25 had gone up in recent years, but the opposite had happened to those aged 16 to 24.
Meanwhile, a charity has said that improving youth employment would have a positive effect on the UK economy.
"There are now enough unemployed young people to fill every football stadium in the Premier League, with almost 200,000 left queuing outside," said Martina Milburn, chief executive of youth charity The Prince's Trust.
"If we fail to help them into work, it will have a devastating impact on young people, their families and the economy.
"A new report published by The Prince's Trust and Citi Foundation shows that disadvantaged young people helped into work or self-employment could boost the UK economy by millions."
The government has been promoting apprenticeships, vowing to give apprentices equivalent "esteem and status with university graduates".
Earlier this month, Business Secretary Vince Cable said he hoped UK firms would create 100,000 more apprentices by 2014, pledging £1.4bn in 2011-12.
A new National Minimum Wage of £2.50 per hour for apprentices was introduced on 1 October 2010, if they are aged under 19.
Related Internet Links
The BBC is not responsible for the content of external sites.