Young jobless: 'Times are hard'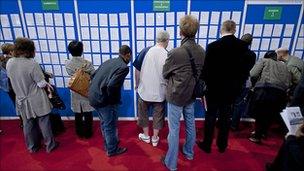 Unemployment in the UK rose by 44,000 to almost 2.5 million in the three months to the end of December, according to the Office for National Statistics.
Youth unemployment rose to a new high, with more than one in five 16 to 24-year-olds out of work after a rise of 66,000 to 965,000.
Prime Minister David Cameron said unemployment, particularly among the young, was "a matter of great regret".
BBC News website readers have been in touch to talk about their experiences of trying to find full-time work.
I graduated in 2008 with a 2:1 degree in English and Film and I would like to work in media production or in publishing. However, I have been unable to find full-time employment.
After working part-time in a clothes store I now work at my local community leisure centre.
Although this new job is great it is only a temporary position. I now have over £16,000 of debt, a result of going to university, and I can't find a full-time job.
I still live at home with my parents and the frustration of not being able to work, support myself and put my degree to good use is very demoralising.
I was very naive. After graduating I believed I would walk into a £20,000 a year job, but now I can't get any full-time job at any wage.
I believe going to university has ruined my chances as friends of mine who are plumbers and electricians, with very poor GCSE results, are more successful than I am.
Times are hard for students but even worse for graduates. Even getting volunteer work is difficult, although that's an avenue I am exploring.
The competition for jobs is too great in this difficult time, even for basic jobs like working at a call centre where qualifications aren't particularly necessary.
I guess the only thing I have to look forward to is unemployment, debt and a chance not to stand on my own two feet and make something of myself.
These past three years have been atrocious and I expect it will get worse.
Stacie Wade, 23, Guisborough near Middlesbrough
I'm interested in working with racehorses and at college I did a BTec in equine and business management.
I left college in 2006 and got a job in early 2007, but it was just for three months.
Since then I haven't had an actual job, and I've been passed around like a rag doll.
I wanted to go to university and do an animal care course. But when I was at school no-one could advise me on what I should study.
I'm currently on a work scheme that puts me in a placement for four weeks. I work 30 hours a week for £51.
My motivation is low because I don't feel this will help me get a job.
I think it would be better if I had a job for four weeks and got paid a full-time wage.
Having that amount of money for the hours worked would give people hope and make them want to work.
I recently had a job interview at a call centre, and I hope to have some good news soon. But if things don't improve, I will have to consider moving to Belgium with the rest of my family.
There are loads of jobs in Belgium. I was there to see my mum a while ago and she was able to get me a cleaning job that paid 10 euros per hour - that's about £8 per hour.
I don't want to leave as I grew up here and all my friends are here. Also, I feel uncomfortable learning a new language. But if there are no jobs, I may have to go.
Beccie Stevenson, 24, Coventry
I'm a graduate and I'm interested in working in PR.
After spending over two years in London, I moved back home to Coventry at the end of 2010.
Since then I have been trying to find a job in the Midlands area.
There would have been more opportunities in London as there are more agencies there and they are easier to find. But I wanted to be home.
I have had many interviews but they are very competitive. I sometimes get through to the second round, but then get pipped to the post.
In January this year I signed on at the job centre, but there have only been a couple of jobs that are PR-related.
After receiving jobseekers' allowance for six weeks, I had to attend the "back to work" scheme and I had to watch a presentation. But so many different people were there, so it was difficult to find an approach that would help everyone.
I am very pro-active and I am constantly in touch with the main recruitment agencies.
There are a few short-term opportunities coming up, and I am hopeful that a PR agency will offer me work.
Joscelyn Davies, 23, Surrey
I have been unemployed for the majority of my two years following graduation (even though I attained a First in the fairly well-respected field of Classics).
Although I have been able to find part-time retail work and trained and worked as an English language teacher, I would like to live and work in the UK but so far finding work has been impossible.
The biggest obstacle I have come across is the rise of the internship, mostly unpaid, in replacing entry-level jobs.
Is it really fair that as I approach my mid-twenties my parents are still expected to support me financially?
I have rent to pay which makes an income essential - something I didn't expect to have to justify after graduation.