Borders closes 200 shops as it files for bankruptcy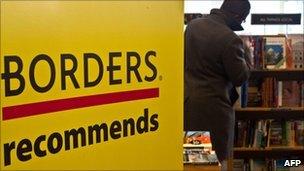 US bookseller Borders has said it will close 200 of its 642 stores in the next few weeks and has filed for bankruptcy protection.
The firm blamed declining sales and a rapidly changing book market.
According to documents filed with the bankruptcy court in New York, Borders had $1.28bn (£799m) in assets and $1.29bn in debts as of December 2010.
The firm has struggled in the face of fierce competition from supermarkets, online sales and digital books.
"It has become increasingly clear that in light of the environment of curtailed customer spending, our ongoing discussions with publishers and the company's lack of liquidity, Borders Group does not have the capital resources it needs to be a viable competitor," said Borders president Mike Edwards in a statement.
Borders will receive financing of $505m from GE Capital to help it restructure.
As the book industry evolves, Borders has continued with a business strategy that focused on adding more stores to its portfolio.
"Books and content just became so available at so many other locations, online and offline, the 'grow, rinse, repeat' mindset just wouldn't work anymore," said Michael Norris, analyst at Simba Information.
In addition, US book sales have been falling.
According to researcher Nielsen, which follows 70% of the US book market, book sales declined from 751 million to 717 million in 2010.
Borders was founded by Tom and Louis Border in 1971 in Ann Arbor, Michigan.
It was active in the UK market from 1998 to 2009, first as a subsidiary of the US company and later as an independent concern before going into administration.
Related Internet Links
The BBC is not responsible for the content of external sites.