Royal Mail to raise prices for business services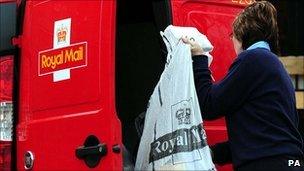 Royal Mail has been given permission by the postal regulator, Postcomm, to increase prices on some business mail services.
The company says this will enable it to raise another £100m to safeguard the universal postal service.
The announcement means Royal Mail can increase the prices it is paid by businesses and rivals to deliver their mail.
Consumers and small business customers are not affected.
Business mailers are typically large companies, such as banks or utility providers, who can have mail delivered by Royal Mail or rivals like Deutsche Post and TNT.
If competitors win the business, it still has to go to the Royal Mail to be taken the "final mile" to individuals.
Royal Mail says it has been losing around 2.5p per item on the six-billion plus items of mail it delivers in this way.
Fewer people are using Royal Mail's services, due to competition from other companies and use of electronic communication.
Royal Mail's latest figures show a £66m operating loss for the half year, down from a £48m profit for the same period a year earlier.
Postcomm said in a statement that agreeing to Royal Mail's request to raise business prices was "appropriate, taking account of all our statutory duties, in particular our primary duty in relation to the universal service".
A Royal Mail spokesman said the agreement helped to safeguard its delivery service to UK homes: "In the first half of the current financial year, Royal Mail made an operating loss. If we don't generate more income, we simply will not be able to keep funding our six-days-a-week operation to the UK's 28 million homes and businesses."
Price changes are already in the pipeline for smaller customers and will come into effect on 4 April 2011.
Access prices are expected to rise by an average of 15%.
Related Internet Links
The BBC is not responsible for the content of external sites.