Qantas profits up despite A380 engine problems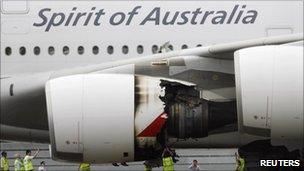 Qantas' first-half net profits have risen four-fold, despite the cost of having to ground its A380 planes last year following engine problems.
Net profit was 241m Australian dollars ($241.8m, £151.2m) compared with A$58m during the same period a year earlier.
The airline said the disruption had cost A$55m in the first half and would add up to A$80m by the end of the year.
It also warned that the floods and cyclone in Australia would take A$70m off its second-half profits.
Qantas said that trading conditions were continuing to improve and it expected 2011 to be a better year than 2010.
But it said there was still considerable uncertainty.
"Changes in fuel prices, foreign exchange rates, general trading conditions and the impact of significant weather events could rapidly impact earnings," it said in a statement.
"It is therefore not possible to provide a more specific forecast at this time given the volatility and uncertainty of the aviation market."
Qantas said that the grounding of its fleet of superjumbos last year following the mid-air failure of one of the engines had been "a setback" for the airline.
But it said it had managed to operate 98% of services during the disruption in November.
The A$80m total cost of the disruption did not include the cost of repair of the damaged aircraft and engines, which is estimated to be A$100m.
This was covered by insurance or would be borne by engine-maker Rolls-Royce under existing repair and maintenance contracts, Qantas said.
The Australian airline said it was in talks with Rolls-Royce over compensation for the economic loss caused by the engine explosion, but no agreement had yet been reached.
The UK engine maker said earlier this month that the events following the failure of one of its Trent 900 engines led to costs of £56m.
Related Internet Links
The BBC is not responsible for the content of external sites.