BAE Systems sales growth flat amid defence cuts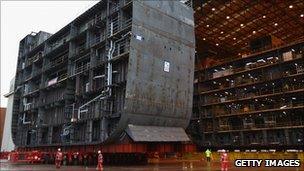 UK defence group BAE Systems has reported a rise in profits in 2010, but sales growth was sluggish following a decline in government spending.
The company reported pre-tax profits of £1.4bn 2010, up from £266m in 2009.
But ignoring exceptional items, underlying profits were up only 0.8%, while sales rose 1.8% to £22.4bn. BAE's share price fell sharply on the news.
Tighter government spending in the UK and US had caused sales at its land and armaments unit to fall 6%, BAE said.
The UK firm said that it did not expect sales at the division, which produces armoured combat vehicles and artillery among others, to rebound this year.
"It is expected that pressures on defence budgets, particularly in the US and UK, will continue," said the company in its preliminary results.
"Recent statements by the US Secretary of Defense indicated that the 2011 US defence budget is likely to include anticipated cost efficiencies, programme reductions and potential cancellations."
The division has yet to recover from a 54% collapse in sales the year before.
The order book at the unit fell by a quarter.
Markets took the news badly, with BAE's share price falling 4.5% in morning trading on the London Stock Exchange after the announcement on Thursday.
BAE is seeking to cut its costs, with the announcement late last year of plans to shed 1,400 jobs in the UK.
The anaemic underlying growth figures recorded by the UK group as a whole were largely in line with market expectations.
Profits before tax for 2009 had been weighed down by exceptional items including a major contract cancellation and a change in pension accounting policy.
BAE also noted that it faced a government investigation in the US into the death of an employee at its facility in Pennsylvania.
The firm said it was also in ongoing dialogue with the US Department of Justice following a settlement reached with the UK authorities over payments made to an advisor in Tanzania.
The company increased its dividend to 17.5p from 16p for 2009.
Related Internet Links
The BBC is not responsible for the content of external sites.