Ladbrokes looks to digital future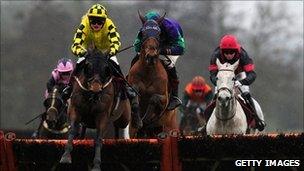 Bookmaker Ladbrokes saw a 36% rise in profits at its digital business in 2010, including a large increase in betting using mobile phones.
The UK firm sees the future of gambling as increasingly digital, and plans to spend £50m developing its technology.
Its bet-in-play business - which takes punts on matches already in progress - also rose strongly, up 27%.
But pre-tax profits fell 12% to £207m, as earnings from "high rollers" - who bet more than £10,000 - fell sharply.
Total earnings from these big gamblers fell 93% to £5m for the year, according to the firm's 2010 full-year results.
According to a Ladbrokes spokesman, the slump was due to a combination of fewer bets being placed, and more gamblers winning big, and it followed two years of much stronger profits.
He dismissed suggestions that the company had chosen to wind down this more risky business line.
Stripping out this typically volatile item, profits at the UK gambling firm were up 20% on a year earlier.
The results disappointed markets, with Ladbrokes' share price dropping more than 3.5% on the London Stock Exchange.
The firm's operating costs proved higher than expected, and some investors were concerned by the need to splash out so much on its IT systems.
"Digital technology has changed the competitive landscape and we realise the imperative to strengthen our capabilities in areas such as Sportsbook, technology, customer management and online marketing," the company said.
Ladbrokes also said it expected to complete the roll-out of its new Global Draw machines - which will replace 95% of its gambling machines - in the next six months.
The roll-out began last year, and has coincided with a 10% increase in average gross earnings at its terminals in the second half of 2010.
Related Internet Links
The BBC is not responsible for the content of external sites.