Bank of England's Andrew Sentance in inflation warning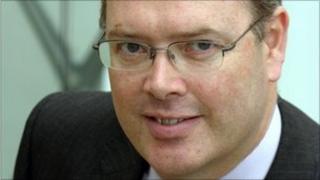 Bank of England monetary policy committee member Andrew Sentance has put further pressure on colleagues over high UK inflation in a speech.
He questioned claims that unemployment and spare capacity in the UK economy would slow down price rises, which he instead blamed on strong global demand.
He also criticised the Bank for its overly optimistic inflation forecasts, saying it had done a "poor job".
Mr Sentance has been voting for an interest rate rise since June.
In January he was joined by a second committee member, Martin Weale.
Consumer prices inflation rose to 4% in January - twice the Bank's official target - largely due to rising commodity prices and the VAT increase.
The Bank governor, Mervyn King, said this week that the Bank now expected inflation to remain higher than previously expected this year due largely to sharp rises in food and fuel prices.
In his speech to the Institute of Economic Affairs, Mr Sentance pointed out that only a year ago the Bank was forecasting inflation would have fallen to 1% by now - a forecast he said he had disagreed with.
"Why has the Bank of England done such a poor job?" he asked.
'Global forces'
The answer, Mr Sentance said, was that the "output gap" - economist-speak for how much less the UK economy is producing than its potential - was not as great as in previous recessions.
It is seen as an indicator of how fast the economy can grow without pushing up prices.
He suggested that measures of unemployment, domestic demand and business expectations supported his claim.
Unemployment is currently below 8%, whereas in during the recessions in the 1980s and 1990s, the rate had risen to over 10%, he said.
With relatively fewer people competing for work, he suggested that wages may start to rise more quickly, perpetuating higher inflation.
He also warned that businesses may "come to expect higher inflation on an ongoing basis, and the higher rate of inflation becomes deeply ingrained".
And with the output gap less significant than many had thought, he said "global forces" - in particular the strong recoveries in Asia and other emerging markets - had been pushing prices higher.
Currency matters
He added that the exchange rate may have overreacted to the recession, adding to inflationary pressures, and favoured a modest appreciation in sterling.
The large fall in the value of the pound in 2007-09 was "the largest depreciation we have experienced in a relatively short period over the past two centuries, with the exception of the departure from the Gold Standard in the 1930s," he said.
A weaker pound makes the UK economy more price competitive internationally, but it also feeds into inflation via higher import prices.
The Bank of England does not typically express an opinion about the value of the pound, preferring not to influence the currency market.
But Mr Sentance said that the currency should be "one of the key areas of focus of the [monetary policy committee] as we seek to steer ourselves out of the current phase of high inflation."
Manufacturing orders
Mr Sentance's speech coincided with the release of a survey of UK manufacturers by the Confederation of British Industry (CBI), which indicated that price rises were expected to continue.
"Manufacturing firms continue to predict a sharp rise in output prices, with expectations at their strongest since July 2008," said the CBI.
The business group said that the sector continued to see improving demand, particularly from abroad.
According to its Industrial Trends Survey for February, manufacturers had reported above-normal export orders by the biggest margin since July 1995.
"There is still worrying evidence of strong inflationary pressures in the pipeline, with manufacturers once again expecting to raise prices sharply in the coming quarter," said the CBI's chief economic advisor, Ian McCafferty.
"Firms' predictions of price rises are now very close to their last peak in the summer of 2008."