US inflation rises 0.4% on higher food and energy costs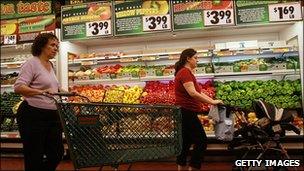 US prices rose 0.4% in January compared with the previous month, mostly due to rising food and fuel prices.
The rate of change was the same as seen in December.
The Consumer Price Index rose by 1.6% over the last year, before seasonal adjustment, the Department of Labor said.
The core rate of inflation, which strips out food and energy costs, rose by 0.2% - the largest rise in more than a year.
This measure has increased by 1% over the last 12 months, still within the Federal Reserve's effective target of closer to 2%.
Food prices increased by 0.5% in January with the food-at-home index increasing by 0.7%, the largest gain since 2008.
And airline fares increased for the fifth month in a row, rising 2.2% in January, as carriers faced higher fuel costs.
However, the data showed that some goods and services were getting cheaper - including the price of both new and used cars, hotel rates and computer equipment.
"With the unemployment rate still at 9%, there will be plenty of downward pressure on underlying prices and so we don't expect core inflation to trend upwards," said Paul Ashworth, an economist at Capital Economics.
Inflation is currently causing concern in Europe with the eurozone's annual inflation rate rising to 2.4% in January, up from December's figure of 2.2%.
The European Central Bank's inflation target is just below 2%.
In the UK, the Consumer Prices Index annual inflation rate rose to 4% in January, up from 3.7% in December.
Earlier on Thursday, Andrew Sentance, a member of the Bank of England's rate-setting panel, warned in a speech that the Bank was underestimating inflationary pressures in the UK economy.
Related Internet Links
The BBC is not responsible for the content of external sites.