Easyjet investors reject executive pay deal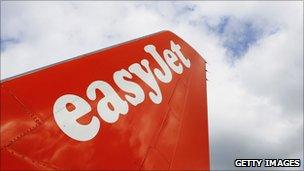 Investors at low-cost airline Easyjet have narrowly voted against the firm's payments to its executives last year.
Founder Sir Stelios Haji-loannou had led calls to reject the remuneration report, over a £1m payment made to former-chief executive Andrew Harrison.
Easyjet said it "acknowledged the concern" from some investors.
But it is understood the vote will have no financial impact on the airline and it will not need to retrieve payments made to any executive.
Mr Harrison was retained at the company to keep continuity following the departure of the airline's chief financial officer and chairman in 2009.
He was paid the fixed £1m payment for six months work between April and September last year - which includes three months after he left the airline.
Easyjet said that the payment to Mr Harrison was a "one-off" made in "unusual and difficult circumstances".
"The company has now moved forward," it added.
Easyjet said that there were 172,483,766 votes against the pay report, with 162,073,601 supporting it and 25,306,985 abstaining.
But sources at the airline said it was apparent that this was a protest vote against the fixed sum paid to Mr Harrison - and was not a rejection of overall executive pay.
Sir Stelios said the result proved many shareholders felt Mr Harrison's compensation was "undeserved and completely unjustified".
"I sincerely hope that this is the last time in the life of this company that a bonus is paid without taking the company's financial results into account."
The airline's annual report reveals Mr Harrison picked up £2.5m in salary and bonuses during 2010, including the £1m fixed cash payment for six months work and £1.2 million under a "golden handcuffs" retention deal agreed in May 2009.
Sir Stelios claimed he was not consulted on Mr Harrison's fixed-term package either as a director or shareholder.
Shareholder advisory group Pirc also advised investors to reject the report.
Mr Harrison left Easyjet on 30 June but was available to advise the firm until the end of September.
Company reports show that he waived a potential bonus worth up to £590,000 as well as a shares entitlement.
Related Internet Links
The BBC is not responsible for the content of external sites.