Singapore puts budget's focus on narrowing wealth gap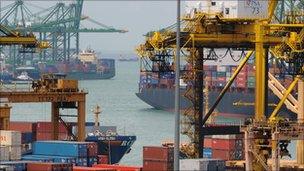 The day has ended at Singapore's Woodlands Ring Primary School.
As the children run towards their parents waiting by the gates, 58-year-old security guard Sivakumar Othrapathi Munisamy keeps a watchful eye over the busy scene.
A retired hotel worker, Mr Sivakumar is among Singapore's poorest 20% of citizens and has had to come back to work to make ends meet.
And while his new job is a vital cash earner, it is also a good example of how Singapore's government is trying to narrow an income gap the United Nations says is the second-biggest among Asia's developed nations.
If anything, Singapore's economic success and role as a regional financial centre have amplified the problem.
Wealth has been created so quickly that it is easy for people to get left behind.
Singapore's economy almost doubled in size in the 10 years to the end of 2008, Department of Statistics figures show.
Thanks to this growth, the average monthly income increased by 40% over the same period.
However, the average monthly income for the bottom 20% of Singaporean households fell by 2.7% over the same decade.
With his monthly salary of just over $1,000 (£618), Mr Sivakumar is at the poorer end of Singapore's wage scale.
"I was financially very pressed when I retired from the hotel industry," said Mr Sivakumar.
High food prices, meanwhile, have been making it tougher for Singapore's low-income families.
Singapore's inflation rate hit a two-year high of 4.6% in December, and the central bank has warned that prices may rise at a faster pace in coming months.
"We used to spend about $50 each week to buy vegetables, fish and chicken. Now we spend $60," Mr Sivakumar says.
"It's a pain. We had to cut back on spending."
The government has been looking at ways of narrowing the country's income gap and in 2007 introduced the Workfare Income Supplement (WIS) scheme.
As a result, some 400,000 Singaporeans now receive financial support from the government.
And while it is helping fund these people's lives, it is also costing the government millions of dollars.
Since the inception of the WIS scheme in 2007, more than $860m has been paid out in aid, with the government also spending to train low-wage workers.
Luckily, Singapore has the money to spend. In 2010, its economy expanded by 14.5%, the fastest pace of growth in the region.
But there are concerns that the government is going to have to keep increasing spending if it is to stop more of its citizens from being left behind.
Top government adviser and former Prime Minister Goh Chok Tong said last month that economic growth must benefit all members of Singapore's community.
"Otherwise," he warned, "our community may be divided by differences in income levels within it."
Politically the earnings gap is also becoming an issue, with the opposition calling for a minimum wage, public retirement pensions and fewer foreigners allowed to work in Singapore.
Prime Minister Lee Hsien Loong is scheduled to call a general election within a year.
His People's Action Party has ruled the city-state since independence in 1965 and it is widely expected to win most of the seats.
But with many of Singapore's poorer citizens facing tougher times, the government will be watching to see if they bring any of their worries to the ballot box.
Related Internet Links
The BBC is not responsible for the content of external sites.