Singapore budget unveils benefit payments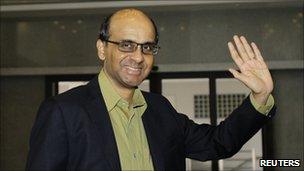 Singapore has drawn up a budget which includes benefits worth $5.2bn (£3.2bn) to its citizens.
The package includes tax rebates and cuts and provisions for long-term social investments.
Finance Minister Tharman Shanmugaratnam unveiled the schemes in his budget speech to parliament.
Helped by strong economic growth of 14.5% last year, Mr Tharman said Singapore would report a small budget deficit of $235m.
Mr Tharman warned that, despite the double digit growth last year, the country faced tough challenges ahead.
"As a country that imports almost all we consume, we will always be vulnerable to inflation abroad, " Mr Tharman said.
"This time round, it is mainly food, utilities and other fuel-related charges that are concerning most Singaporeans."
He said the government's policy, to let its currency appreciate against the US dollar, had been an effective measure.
The Singapore dollar has risen almost 10% against the greenback in the past year, thus making imports cheaper.
Mr Tharman set the inflation target between 3% to 4% for the next financial year.
Going forward, the finance minister has indicated that the city-state's economy will grow in the range 3% to 5% over the rest of decade.
He said creating and maintaining jobs will be the key to achieving that target.
"The challenge of keeping jobs and growing incomes for low-skilled workers is ever-present," he said.
"The reasons are well-known, competition from China and other emerging players has exerted downward pressure on wages of low-skilled workers all around the world."
"We can and should do more to help Singaporeans who have seen little improvement in their wages."