UK retail sales bounce back in January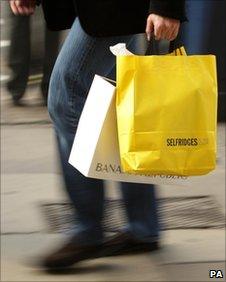 UK retail sales rebounded in January after heavy snow caused a big drop in December sales, figures have shown.
The volume of retail sales in January rose 1.9% on the previous month, the Office for National Statistics said.
December's monthly figure was also revised from an earlier estimate of a 0.8% fall to a 1.4% drop - the biggest December fall since records began.
Over a longer period, sales in November to January were up 0.2% compared with the previous three months.
Year-on-year, sales volumes were up 5.3% in January - the biggest annual increase for more than six years.
The figures were better than expected. Analysts had forecast a monthly rise of 0.5% and an annual increase of 4.1%.
"The monthly pattern of retail sales has been affected by the extremely bad weather in both January 2010 and December 2010, and changes to the VAT rate in both years," the ONS said in its latest monthly release.
VAT increased from 15% to 17.5% on 1 January 2010 and from 17.5% to 20% on 4 January 2011.
There was some anecdotal evidence that shoppers made major purchases before the VAT rise took effect on 4 January, the ONS said, with sales falling off thereafter.
Independent retail analyst Rahul Sharma said that because of these effects, February would be "a much better pointer" to the underlying trend in sales.
He also warned that with rising commodity prices and the CPI measure of inflation currently at 4% - double the Bank of England's target - consumers would soon face even higher prices.
"People aren't fully aware of the kind of increases that are coming, largely because the retailers haven't been in a position to pass them on. But increases are coming," he told the BBC.
"For clothing retailers [in particular], the level of raw material price increases has been so significant that they need to pass them on to the consumer."
By value, retail sales in January rose by 3% on the month and 8.2% on the year, reflecting the increased volumes as well as the impact of inflation.
Andrew Goodwin, senior economic adviser to the Ernst & Young Item Club, agreed that the rest of the year could be tough for both consumers and retailers.
"Spending power is under huge pressure from high inflation and weak earnings, while confidence is very weak and households remain heavily indebted.
"January could well represent the high watermark for retailers in what is likely to be a very difficult year."
The British Chambers of Commerce said that in general, the figures "support our view that GDP will show positive growth in the first quarter of 2011 after the decline in the last quarter".
Related Internet Links
The BBC is not responsible for the content of external sites.