Anglo American profits surge on commodity prices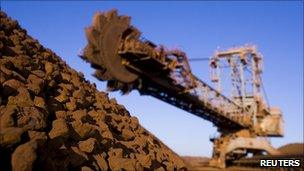 Mining company Anglo American saw pre-tax profits almost treble in 2010, helped by rising commodity prices and improvements in productivity.
The firm made $10.9bn (£6.7bn) compared with $4.02bn the year earlier as sales jumped 34% to $32.9bn.
Anglo also announced it was was forming a joint venture of its UK building materials group, Tarmac UK, with the UK arm of French firm Lafarge.
Combined, the two businesses had sales of $2.8bn in 2010.
The merger will save at least £60m per year in costs, Anglo said.
The company said that prices had risen for all the company's mining production, including a 48% gain for nickel and 34% for platinum.
The De Beers diamond business enjoyed strong demand from Asia.
"While there remain a number of uncertainties in the immediate term, not least in the developed economies, our medium-to long-term view of demand growth for our commodities remains positive, driven by the resource intensive nature of economic growth in emerging markets," said chief executive Cynthia Carroll.
Anglo is the latest mining firm to report a big increase in annual profits. Last week, Rio Tinto reported a near trebling in profits to $14bn, while this week BHP Billiton reported a 72% increase in profits to $10.52bn.
Related Internet Links
The BBC is not responsible for the content of external sites.