Wedding spending: How to judge the best insurance cover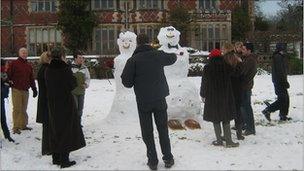 The Financial Ombudsman Service (FOS) is warning engaged couples to make sure they give enough time and thought to their wedding insurance.
Policies can vary hugely when it comes to their cover, and the cheapest options might not be the best.
Insurance is a relatively small chunk out of most couples' budgets.
About £130 will provide cover for a wedding that costs up to £25,000 - and that could make all the difference if something goes wrong.
However, the financial research company Defaqto says only 23% of policies will reimburse the full costs if you have to cancel a wedding.
And just 18% will pay out if caterers, or other suppliers, fail to deliver.
Jo Lumley from West London was supposed to get married on 18 December last year.
She had spent months planning her perfect winter wedding, but she had not counted on the British weather.
Horsted Place in Sussex, the place she had picked for her big day, was in the grip of a big freeze and the Met Office was warning about heavy snow.
"Guests were calling to cancel," Jo says.
"We were getting increasingly worried about the conditions on the roads.
"Around 1030 we decided we really had to cancel. But we were thinking it should be OK, because we've got insurance," she adds.
By this stage, about a third of the guests had made it through the snow to the venue.
Jo did not want to send them home when the conditions on the roads were so bad, so they decided to stay and try to make the best of things.
Even so, it was still very upsetting.
"My friends built these big bride and groom snowmen to try to cheer us up, but I was crying on and off throughout the day," says Jo.
"It was a really sad day. I was thinking, 'We were supposed to be getting married now.'
"All the effort put into planning it, and then it just had to be called off last minute," she added.
Jo wanted to start reorganising her wedding, so immediately put in her insurance claim for several thousand pounds for the cost of hiring the venue, catering, flowers, invitations and DJ equipment.
She had taken out cover with Events Insurance, which is underwritten by AXA.
"The insurance came to us with a very low offer, two-thirds of the venue fee," says Jo.
"And they hadn't taken into consideration anything else we'd claimed for, such as the invitations, flowers, music hire, cake.
"We were very shocked and disappointed, and just really annoyed they were obviously trying to save themselves money. We had insured a wedding and hadn't had a wedding," she says.
Jo complained, but the company refused to back down.
However, the BBC contacted AXA and now Jo's claim will be paid out in full.
David Williams, the company's claims and underwriting director, admitted his firm should have handled the claim better.
"We're very apologetic for the problems we've caused - this wedding was not one where it was just cancelled and nobody turned up," he says.
"People were actually in the hotel, they stayed overnight, they ate the food, and that made it a little bit unique, and unfortunately we didn't respond in the way I think we should when handling the claim," he acknowledged.
Jo has set a new wedding date now.
"I'm excited to be finally getting on planning the new wedding," she says.
"It's just really disappointing we had to go through all that time waiting, and the stress of dealing with the insurance."
Emma Parker of the Financial Ombudsman Service (FOS) says there is no such thing as a perfect insurance policy covering every eventuality.
"Insurance policies can be complicated and no policy is going to cover you for everything," says Emma.
"But if you do have a problem, speak to the insurer, you may well be able to sort it out with them.
"If not, the Financial Ombudsman Service is there and we'll see if we can help," she says.
Related Internet Links
The BBC is not responsible for the content of external sites.