Australia and NZ hope single market will boost growth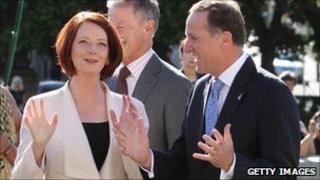 New Zealand and Australia boast one of the world's most effective and comprehensive free trade agreements.
Trans-Tasman bonds have been further strengthened by mutual support following the Christchurch earthquake and Queensland floods.
If anything, there is now a desire for the commercial relationship to be even more harmonious.
Another step towards greater integration was taken last month with the signing of a new investment pact by the Australian Prime Minister Julia Gillard and her Kiwi counterpart John Key.
Ms Gillard said it was the most significant boost to bilateral trade since the Closer Economic Relations (CER) Agreement came into force in 1983; the year Britain's Prince William toured the Antipodes with his parents, and the Australian dollar was floated.
Three decades on and there is a feeling that commercial ties need to be upgraded into a single economic market.
It is a "dream" that should be pursued says John Weiss, the head of the Trans-Tasman Business Circle.
"We see it very much as removing some of the nuisances of regulatory matters, which will allow a much smoother way of doing business," Mr Weiss explains.
Following suit
Two-way trade is worth about A$16bn ($16bn; £10bn) annually.
While Australia's resources-fuelled economy roars ahead, across the water the New Zealand are still trying to shake off the effects of recession.
A task that has been made significantly harder by the recent deadly earthquake that shook Christchurch.
New Zealand's Prime Minister John Key said Australia was the star performer in the developed world and clearly New Zealand is eager to ride in the wake of its neighbour's success.
Tim Hazledine, a professor of economics at the University of Auckland Business School, believes that a customs union, which would bring uniformity to tariffs and duties, would benefit both countries, as would a common currency.
He says a new single currency could be called an Anzac dollar, after the heroic soldiers from both sides of the Tasman Sea who died during the disastrous assault at Gallipoli in 1915.
"The common currency idea has been pushed back a bit by Portugal, Ireland, Greece and Spain abusing their membership of Europe's currency union to let their public sector deficits get out of control," he explains.
"In New Zealand our deficit hasn't got out of control so there's a lot of potential in exploring the Anzac dollar," Professor Hazeldine explains.
Colonised?
Not everyone, though, is comfortable with all this cosy talk of single markets and a unified currency.
Peter Conway, the secretary of the New Zealand Council of Trade Unions, is keen to resist Australia's growing influence.
"I think we are dominated by them now whether you look through retail, banking (and) many sectors, and as their other investment funds grow then in the economic sense we are being colonised," he says.
During a recent state visit, Julia Gillard told her New Zealand hosts that Australia had no intention of being anything but fair.
"I don't think it's a question of big dominating small," said the Australian leader, adding that it was more about a sense of partnership and working together.
The Prime Minister received loud applause when she confirmed that her government would abide by a WTO ruling that overturned an import ban on New Zealand apples.
Friction spot
When it comes to the humble Southern Rose or Granny Smith, apples have been a source of friction between the two countries.
A ban has been in place because of concerns about fire blight, a bacterial disease.
New Zealand farmers have long contended that their produce posed no risk to Australia, which has very strict quarantine regulations.
International arbiters recently came down on the side of New Zealand growers, who had argued that the ban was a deliberate ploy to exclude them from Australian supermarkets.
"Australia has kept us out for 80 years but they've got to abide by the decision according to what the rules are," says Con Van Der Voort, a Dutch-born orchard owner in Ettrick in New Zealand's Central Otago district.
And while Canberra and Wellington may seek deeper economic ties, Mr Van Der Voort tells the BBC that he expects both nations to always remain fiercely self-reliant.
"They are both very independent and don't ever mistake an Australian for a New Zealander because you'll have a big argument on your hands and vice versa."
But despite the apple issue, make no mistake, these Antipodean neighbours are as close as ever.
And they have been brought together not only by economic necessity but by the shared trauma of recent natural disasters.