Public finances see surplus after jump in tax receipts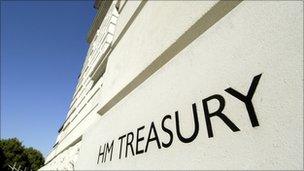 The UK's public accounts were in surplus in January after a strong rise in income tax receipts.
The Office for National Statistics (ONS) reported the public sector net borrowing measure had a surplus of £3.735bn, higher than expected and the largest surplus since July 2008.
January is traditionally a month in which a surplus is recorded, as a range of income tax bills fall due.
However, a deficit of £1.266bn was recorded in January last year.
Total public borrowing for the year to date now stands at £113bn, £14.1bn lower than at the same point last year.
January's surplus is expected to help the government meet its target for borrowing for the financial year to March 2011 of £148.5bn.
To help cut the deficit the government is cutting public spending and raising some taxes, including last month's rise in the VAT rate from 17.5% to 20%.
The plan has the approval of the US Treasury Secretary, Timothy Geithner, who told the BBC in an interview that he was "very impressed" with the plan to reduce the budget deficit.
Ross Walker, of RBS Financial Markets, called the latest borrowing figures "a good set of data".
"January is a key month, you get major income tax and corporation tax inflows and they seem to be robust," he said.
"Public spending growth is also moderating so both sides of the public sector ledger are moving in the right direction, all of which leaves them comfortably on track to meet their full-year forecasts set out in the emergency budget".
In a statement, a Treasury spokesman said: "It's welcome that this January saw the first surplus for the public finances in two years, but it will take more than one month in surplus to deal with borrowing of almost £150bn pounds for this financial year."
The BBC's economics editor, Stephanie Flanders points out that there is still plenty that could go wrong, with January's figure distorted by one-off changes in the timing of self-assessment payments, which will unwind next month.
She adds that there are other major factors that are prone to revision.
But she says that it is likely that borrowing will be lower than the government has estimated, although it is trying to avoid raising expectations by playing down the possibility of a good number.
Related Internet Links
The BBC is not responsible for the content of external sites.