Mexico economic growth hits 10-year high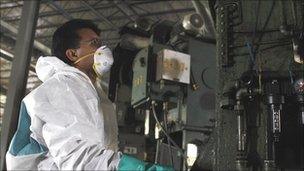 The Mexican economy recovered from a sharp contraction in 2009 to grow by 5.5% last year, its fastest annual rate in 10 years, official figures show.
The National Statistics Institute said that the agriculture, manufacturing and services sectors all made a strong improvement over the year.
The manufacturing sector was one of the key drivers with a growth rate of 6.1% in 2010.
"Growth is now more balanced," said Finance Minister Ernesto Cordero.
"Manufacturing was stronger but most importantly the services sector grew significantly," said Gabriel Casillas at JP Morgan.
The Institute said the final three months of the year grew at 1.3% compared with the previous quarter.
Unlike many emerging market economies, Mexico is not currently troubled by high inflation, which is currently running at 3.8%, down from 4.4% at the end of last year.
For this reason, interest rates are expected to remain on hold at 4.5%, analysts say.
Related Internet Links
The BBC is not responsible for the content of external sites.