Everyone wants to be Azerbaijan's friend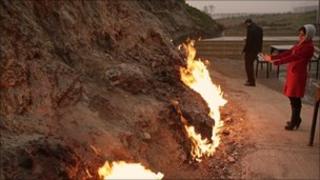 On the outskirts of Azerbaijan's capital city, Baku, naturally occurring fires light up a hillside - a centuries-old phenomenon caused by gas seeping up through the rocks.
In this small country on the Caspian Sea, fossil fuel reserves are never far away. This is, after all, a nation that proudly boasts of an oil industry older than its celebrated Texan counterpart. 
"Everything that was conducted for the first time in the oil and gas industry was conducted here - the first industrial production of oil, the first oil tanker, the first pipeline, the first offshore oil production," boasts Elshad Nassirov, vice-president of Socar, the state oil company.
There's even talk of opening up an oil museum in Baku. But it's the future that really excites this country's political and business leaders.
Azerbaijan covers 87,000 sq km of land - just one third the size of Britain - but when it comes to fossil fuels, location is everything. As Europe increasingly looks east for oil and gas, it has a choice of three countries to deal with.
"Hydrocarbon reserves that are accumulated in the East Caspian region can reach Europe through Russia, Iran or Azerbaijan," explains Mr Nassirov.
"And every consumer has the right to choose," he pointedly adds.
Bullish mood
Decades of Soviet rule came to an end in 1991. Two years later, the nation signed what it calls "the Contract of the Century".
That contract was to build a huge pipeline from Baku into the city of Ceyhan, Turkey, carrying a million barrels of crude oil every day.
Opened in 2006, the 1,800km-long pipeline delivered oil to Europe - and brought huge investment into a country that was languishing near the bottom of global economic tables.
Between 2005 and 2009, Azerbaijan's economy grew at an average annual rate of more than 21%, making it among the fastest-growing countries in the world.
Growth was more modest in 2010, but fresh ambitious plans are being made. New pipelines are being drawn on maps and Baku is getting ready for another boom.
Cranes pepper the skyline. Drive along the sea front and within yards of one another, you can spot a Marriott, Hilton and a Four Seasons Hotel under construction.  
As the political unrest among other oil producing nations keeps crude prices hovering above the $100-a-barrel mark, the mood in Baku is bullish.
"Some people questioned whether Azerbaijan had enough oil to fill the Baku-Tbilisi-Ceyhan pipeline," bristles Azerbaijan's deputy energy minister, Gulmammad Javadov. "But now we can see there is enough oil to fill the pipeline."
Sat in his grand office in Baku near the presidential palace, the deputy minister knows the world is keen to work with his country.
Reminders sit on his desk - gifts from official trips to Iran, India, Germany and China.
Magazine front covers show his president meeting German Chancellor Angela Merkel and the President of the European Commission, Jose Manuel Barroso, plus the photo-op they all want, a picture with the President of the United States.  
"We are interested in having as many routes as possible to transport out our energy," he says, adding that they are confident the nation can triple its production of natural gas within a decade.
"This is the wealth gifted from God to Azerbaijan. We need to use it in the most effective way."
Energy kingmaker
In its latest World Energy Outlook report, the International Energy Agency has identified the Caspian region as key to ensuring future global fossil fuel demands are met in the coming decades. Growth will be rapid and impressive.
Azerbaijan exported no natural gas 10 years ago. By 2030, the IEA expects some 35 billion cubic meters a year to be flowing out of this country.
Significantly large sums will also come from neighbouring countries such as Turkmenistan and Kazakhstan. That, too, is likely to flow to Europe through Azerbaijan.
This is a nation gearing up to be both an important producer, but also a vital transit country - an energy kingmaker in Central Asia.
Despite the recent strong economic growth, wealth per person remains low in global terms - less than $5,000 per year. And many locals, while reluctant to voice criticisms of the government publicly, complain privately that the vast wealth generated by their oil and gas does not trickle down to the masses.
"We have a programme to tackle poverty. Plus there are big construction works in this country and new jobs are being created. I believe the implementation of our programs will raise the income of the population," states Mr Javadov confidently.
That trickle-down effect will have to come sooner rather than later if the whole nation is to benefit. While the mood among the country's leaders is hugely optimistic, there's an acknowledgement that the good times can not last forever. 
"The 21st Century will be the last one relying on hydrocarbons," predicts Socar's Mr Nassirov, who also forecasts that global oil production will hit its peak "this year or next". The peak for natural gas is still a little way off yet, he believes.
With that in mind, Azerbaijan is unashamedly throwing its economic efforts into a black liquid and a transparent gas. As Mr Nassirov explains, the past justifies the future. 
"The country which provided so many world firsts in the oil and gas industry has the right to rely more than other countries on that industry."