Wal-Mart reports seventh quarter of declining US sales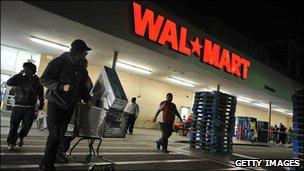 Retail giant Wal-Mart has reported a seventh straight quarterly decline in underlying sales at its US stores, as it loses customers to cheaper rivals.
In the fourth quarter of 2010, same-store sales fell by 1.8% in the US, but the firm benefited from strong overseas sales.
Wal-Mart posted a consolidated net income of $6.2bn (£3.8bn) in the fourth quarter, up from $4.9bn a year earlier.
For 2010 as a whole, consolidated net income was $17bn, up from $14.9bn 2009.
The profit figures were boosted by cost cutting and strong international sales, which benefitted from exchange rate movements.
The company told analysts at its previous quarterly profits announcement that it had turned the corner and US sales would turn positive in the fourth quarter.
But sales at its US stores open at least a year fell by 1.8% and are forecast by the company to continue to be below last year's levels for this current quarter.
Wal-Mart shares fell by 3.2% following the announcement.
The company has been losing customers in its heartland US stores to so-called "dollar" stores after it changed its "every day low prices" strategy and introduced selected price cuts.
It also cut down the range of goods it offered, a decision the firm said it had since regretted and reversed.
The company's chief executive, Mike Duke, said these problems would take time to correct.
"Some of the pricing and merchandising issues in Wal-Mart ran deeper than we initially expected and they require a response that will take time to see results," he said.
Although most of Wal-Mart's business is in the US, its international operations, including the UK's 386 Asda stores, are providing the best growth with sales up by 9% for the quarter.
Asda, whose strategy included a sharp focus on price - it promised its groceries would be 10% cheaper than rivals - and the widening of its product range - reported sales growth over the Christmas quarter picked up strongly with a 1.6% increase in shops open for more than a year.
Wal-Mart as a group made sales of $419bn in the year to the end of January, with the US accounting for about 60% of that.
Related Internet Links
The BBC is not responsible for the content of external sites.