Japan posts first trade deficit in almost two years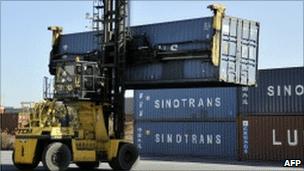 Weaker exports to key markets gave Japan its first trade deficit in 22 months, Ministry of Finance data has shown.
The trade deficit was 471.42bn yen ($5.7bn; £3.52bn) in January, with exports up 1.4%. Analysts had expected export growth to be closer to 7%.
Japan has struggled to boost exports as a stronger yen dents demand.
It recently lost its position as the world's second-largest economy to China.
However, analysts said they expect exports to rebound.
That should help drive economic growth in Japan, albeit at a pace that is slower than many experts may have predicted.
"Exports were weaker than expected," said Yoshimasa Maruyama from Itochu Corporation in Tokyo. "But the overall trade data does not alter the scenario that the economy is emerging from a lull.
"Exports will pick up slowly in the coming months but the pace of the economic growth in the first quarter may not be as fast as previously projected," he said.
Most economists blamed a slowdown in exports to Asia for the surprise deficit in January.
Shipments to the region rose 0.4% from a year earlier. That is much less than the 14.8% annual increase in December.
One of the main reasons for the slower growth was weaker demand from China, where the government is battling inflation and signs that its economy may be overheating.
In the past couple of months, interest rates have climbed, crimping consumer demand and spending power.
During January, shipments to China, which is Japan's largest trading partner, increased 1% from a year earlier. That is down from a 20.1% annual increase in December.
"China has started to tighten policy to slow its economy and this shows in January," said Takahide Kiuchi from Nomura Securities in Tokyo.
"China stopped tax breaks on cars in December, which also had an impact."
However, Mr. Kiuchi added that exports were likely to pick up in coming months.
"The slowdown in Japan's export growth in January is temporary and exports could continue as final demand overseas is still strong and the inventory cycle suggests there is more demand," he said.
Related Internet Links
The BBC is not responsible for the content of external sites.