Hewlett Packard shares slide as revenue outlook cut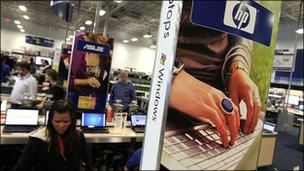 Shares in PC maker Hewlett Packard closed down by nearly 10% at close of trading in New York, after the firm cut its revenue outlook for 2011.
HP predicted on Tuesday that revenue would be $130bn (£80bn) to $131.5bn in 2011, down from a previous forecast of $132bn to $133.5bn.
The firm also reported first-quarter revenues of $32.3bn, up 4% from a year ago but below analysts' expectations.
The company blamed a weakening consumer demand for personal computers.
First-quarter net income rose to $2.6bn from $2.2bn at the same time a year earlier.
But revenue at Hewlett Packard's personal computer division slipped by 1% as the company's sales continued to struggle.
Its IT services division - which includes technology infrastructure outsourcing - saw revenues fall by 2% as businesses signed fewer such outsourcing contracts.
"If you use Q1 as a marker, it's clear that we do a lot of things well at HP. It's also clear that we have isolated areas we need to improve," said chief executive Leo Apotheker.
At close of US markets on Wednesday, HP was behind by 9.83%, or $4.74, at $43.59.
Related Internet Links
The BBC is not responsible for the content of external sites.