Quitting Wall Street: From banking to buffalo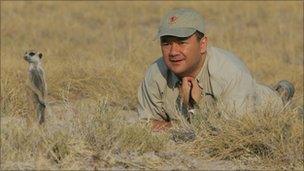 Some people are fortunate to achieve one major ambition in their life, but Jose Cortes has already managed to fulfil two dreams.
While growing up in Manila, he always wanted to be a big shot in the financial world - a desire which prompted him to leave the Philippines in 1991 to take a master's degree in the US.
Wall Street beckoned and he worked for JP Morgan and Barcap, before becoming a managing director at Lehman Brothers, then joining his former Lehman peers taken on by Nomura and moving to Hong Kong.
But he had already become disillusioned with his work long before the collapse of Lehman Brothers. It was time to pay more attention to his second dream.
"I didn't hate going to work," Mr Cortes says.
"I just started meeting people outside banking who were totally happy with what they were doing, whereas I was only about 50% happy."
The turning point was when his father died in 2007.
"He was working all his life and then one day he was gone. That started to make me think."
"Since the 1990s, my partner and I loved going to Africa. We had big dreams about owning a safari camp ourselves, but thought that was a bit drastic," he says.
And then, while they were in a camp in Botswana, the owner asked Mr Cortes and his partner Victor Dizon why they were the only Asians there.
"That made us realise how under-penetrated the market was," Mr Cortes muses.
There had always been Europeans, and later Americans, going on safari in Africa because of old colonial ties.
There was no such historical link for Asian travellers, and there were other factors that deterred them from visiting the continent as tourists.
"Asians in general are very skittish," he says.
"All they hear about is malaria and ebola," he says, "while the media only talks about civil war in places like the Ivory Coast and people dying of Aids."
That is hardly going to inspire people to change the habit of a lifetime - but changing those habits was a challenge that Mr Cortes embraced with the passion of a zealot.
In 2002, a lot of people were being made redundant in the financial sector, so when Mr Dizon lost his job with Morgan Stanley, the pair had another trip to Botswana.
The idea of starting their own safari company began to become something more than a mere daydream - and the company Asia to Africa was formed.
"When we were setting up our own venture, we spoke to similar companies in the US and the UK," Mr Cortes explains.
They began selling custom-made holidays to friends and colleagues. By 2008, they were arranging more than 200 trips a year.
"I was in banking until 2010, so it helped that people knew where I worked and we weren't fly-by-night," he says.
"The first tour, to South Africa, cost $9,000 (£5,500) and it was all arranged through e-mails," he says.
However, as they began to organise things themselves by setting up partnerships, things became easier.
Mr Cortes wanted to be in South Africa for the World Cup in 2010, so he finally gave up his banking job and moved to Franschhoek, in the middle of the wine-growing area.
From his idyllic surroundings, he runs his business with the use of e-mails and Skype.
"It was hard to get Asians to go but once they did, they got hooked," Mr Cortes enthuses.
In their first year of operating, their clients consisted of 80% expats, English and American, living in Hong Kong or Singapore or Tokyo.
That trend has now reversed: 70-80% are Asians and they have never found it necessary to advertise their services.
"It has all grown by word of mouth," he says, "Our clients know people in media and we get additional publicity that way."
They now have representatives in Hong Kong, Beijing, Manila and Singapore and they focus on tailor-made high-end luxury tours, rather than the mass market.
Mr Cortes will arrange anything from private planes to safaris with golfing breaks.
"From the moment our clients land and step off the plane, they are ushered through special lines - which is something you can do in Africa, and their every wish is catered for," he says.
He acknowledges that his clients are not recession-proof, but in 2010, his business organised safaris in several countries for more than 1,500 clients.
He also points out that people can experience a safari on the cheap, sleeping under canvas with a bucket shower.
"I would rather get someone to go on a safari on a tight budget, rather than them not going at all," he says.
"As long as we make people happy, they return and spread the word."
Related Internet Links
The BBC is not responsible for the content of external sites.