Centrica agrees £2bn Qatar gas supply deal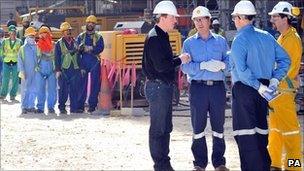 Centrica has signed a major new gas supply deal with Qatargas worth £2bn.
The three-year deal will secure a supply of liquefied natural gas (LNG) equivalent to 10% of the UK households' annual gas demand, Centrica said.
The parent company of British Gas said the deal was strategically important as competition for LNG was intensifying from emerging economies.
It was signed as Prime Minister David Cameron toured the Middle East with a group of business leaders.
Qatar, which has the world's third largest gas reserves, already supplies the UK with 15% of its gas.
Centrica chief executive Sam Laidlaw said he hoped the deal would be the start of a longer term working relationship.
Mr Cameron stressed the importance of the deal for the UK.
"This important agreement is good for Britain; good for our energy security, good for jobs, and good for economic growth," he said.
After meeting Mr Cameron, the Qatari prime minister expressed interest in doing more deals with UK companies.
Asked if he wanted to buy a stake in partially government-owned Royal Bank of Scotland or Lloyds Banking Group, Sheikh Hamad bin Jassim said: "About any investment in the state or partially-state owned banks, we are very open for any investment in the UK.
"In fact we discussed some ideas with the prime minister. Our team has been engaged and we will continue to discuss investment in the UK," he said.
The Centrica deal involves the delivery of 2.4 million tonnes of LNG a year to the UK's Isle of Grain facility.
The UK already imports more than half of its gas. This is expected to rise to 83% by 2025, Centrica said.
Centrica, which supplies about a quarter of UK households with gas, will announce its full-year profit figures on Thursday.
Related Internet Links
The BBC is not responsible for the content of external sites.