Oil prices hit fresh highs on Libya unrest fears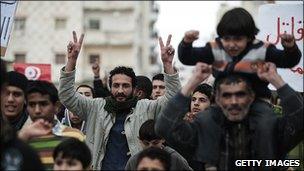 Oil prices have hit their highest levels in two-and-a-half years after violence in Libya disrupted output and markets feared that the unrest could spread to larger oil producing nations.
Brent crude hit $119.79 a barrel in early Thursday trade, before falling back to $111.36.
US light crude earlier reached $103.41 a barrel before slipping to $ $97.28.
This has lead to concerns about the impact sustained high prices could have on the world economy.
Russian Prime Minister Vladimir Putin, whose country is the world's biggest oil producer, has said they could be "a serious threat" to global growth.
The last time prices were this high was in August 2008 and analysts are predicting more gains may be on the way.
BNP Paribas said that it was revising its outlook and expected Brent to continue trading at its current high level.
The bank upped its forecasts to predict an average price of $117 a barrel in the second quarter of this year.
"Given the level of uncertainty, the revision is a conservative stab in the dark," it said.
Meanwhile, Deutsche Bank said that if Brent went above $120 a barrel it would be an turning point for global economic growth.
Oil "is certainly edging closer to a level that is viewed by our colleagues as a key threat to global growth," Deutsche said in a research note.
"$120 a barrel is the level that oil as a share of global GDP starts to move above 5.5%... which has historically been an environment where global growth has come under pressure."
European shares fell on Thursday, extending losses for the fourth consecutive session as investors expressed concern about the impact of the oil price spike on global growth.
In London, the FTSE 100 was down 0.06% at 5919.98, while in Frankfurt the Dax was 0.89% lower at 7130.50. And in Paris, the Cac 40 fell 0.09% to 4,009.64 points
"The general unrest in the Middle East has knocked all the confidence out of the market," said Mark Priest, an equities trader at ETX Capital.
"We cannot see a turnaround unless suddenly the situation is resolved in Libya," he added.
Oil prices have been rising for months, but the uprising in Libya has caused a sharp increase in crude costs.
According to the International Energy Agency, Libya produces 1.6 million barrels per day of crude, 2% of the world's output.
European firms have been suspending production in Libya this week and Barclays Capital estimates that so far about one million barrels per day of production has been shut down, although others are quoting figures nearer half a million.
Saudi Arabia has an estimated 4 million barrels per day of spare capacity and analysts said a move from them - the biggest oil producers in the region - would be crucial in bringing down the oil price.
Riyadh is asking "what quantity and what quality of oil" European refiners want, a senior Saudi oil official told the paper.
However there have been concerns that it will not be easy to make up the shortfall in Libya's high quality light, sweet crude.
Much of the spare capacity among the Opec group of oil producing nations is heavy, high-sulphur - or sour - crude, which can be more difficult to refine.
Investment banking firm Goldman Sachs issued a report which reflected the nervousness in the markets that any further disruption to oil supplies could create severe oil shortages and require demand rationing.
"The market cannot accommodate another disruption, in our view, with the problems in Libya potentially absorbing half of Opec's spare capacity," said Jeffrey Currie of Goldman Sachs in a research note.
Although Goldman Sachs sees the risk of contagion to other large energy producers as relatively low at the moment, "the stakes associated with further contagion are now much higher, which creates even further upside risk to our price forecasts," Mr Currie said.